Pot Bust: The SEC Issues a Warning on Marijuana-Related Investments
By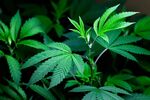 The U.S. Securities and Exchange Commission today warned investors that it's seeing an increase in complaints about marijuana-related investments as more and more states allow some form of legal use.
The securities watchdog has temporarily suspended shares of five companies that claim to be operating in the cannabis industry over questions about the accuracy of their public statements and potentially illegal sales of securities and market manipulation, according to an SEC notice published today. One of the companies suspended this morning, Denver-based FusionPharm, sells a line of cultivation containers called PharmPods, touted as a "plug and grow" solution for cannabis. Information that FusionPharm disclosed on its assets, revenue, financial statements, business transactions, and current financial condition may be inadequate or inaccurate, according to the SEC's suspension order, which lasts until May 30. FusionPharm didn't immediately respond to a telephone message left with its sales and marketing department.
The SEC highlighted another potential issue for investors in a shaded box on its notice: the legal risk of prosecution that pot-related companies face. While 20 states and the District of Columbia have legalized some marijuana-related activity, there's the risk of federal criminal prosecution of cannabis businesses under the Controlled Substances Act, according to the notice.
The Department of Justice issued a memo last August that gave cannabis-related businesses some clarity as to what might trigger federal enforcement actions, including interstate commerce and selling to minors.
Another point of concern is simply that the companies are very small—so-called microcaps—which tend to be riskier in general.
"Recent changes in state laws concerning medical and recreational marijuana have created new opportunities for penny-stock fraud," said Elisha Frank, co-chair of the SEC Enforcement Division's Microcap Fraud Task Force, according to an accompanying press release.
As in its recent warning about Bitcoin and other virtual currency-related investments, part of the SEC's concern is simply that fraudsters follow the headlines.
"Given the attention that marijuana-related companies have attracted recently, we urge investors to exercise caution when looking at investments in this space," said Lori Schock, director of the SEC's Office of Investor Education and Advocacy, according to the press release.
Before it's here, it's on the Bloomberg Terminal.
LEARN MORE