'No Gene for Invasion in Chinese People's Blood,' Says Xi, Amid Sino-Vietnam Tensions
By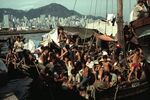 As tensions grow between China and its neighbors, some words of reassurance are certainly welcome. Still, it's questionable just how calming Xi Jinping's recent ones were.
China does not accept that "might is right," said China's president and party secretary, speaking yesterday at a commemoration ceremony in Beijing for the 60th anniversary of the Chinese People's Association for Friendship with Foreign Countries. "There is no gene for invasion in Chinese people's blood," Xi continued, the official Xinhua News Agency reported on May 16.
Speaking of invasions, that is what China did when it sent troops into northern Vietnam in 1979, a foray that sparked a short-lived but bloody war between the two countries. China and Vietnam have a history of "collaboration and cordiality, but also tumult and hostility" going back as far as the first century B.C., wrote Dennis McCornac, a professor at Loyola University Maryland, in 2011.
This time the red-hot dispute is over China's construction of an oil rig in a disputed part of the South China Sea, a little over 200 kilometers from Vietnam's central coast. There have been confrontations between the two countries' coast guards and angry Vietnamese have rioted, attacking Taiwanese and Singaporean-owned factories, injuring more than 100 and killing at least two.
The violence targeting Chinese had "a direct link with the Vietnamese government's indulgence and connivance in recent days toward domestic anti-China forces and lawbreakers," said Foreign Ministry spokeswoman Hua Chunying in Beijing, speaking the same day as Xi made his comments.
The disputed islands in the South China Sea are "territories passed on by our ancestors to our current generation, and we cannot afford to lose an inch," said General Fang Fenghui, chief of staff of China's People's Liberation Army, speaking at a Pentagon news conference in Washington on May 16.
Meanwhile, here again is Xi talking peace and concord: "China will firmly stick to the path of peaceful development, and would like to boost the world peace with other countries," China Daily reported China's president saying on May 15 at the Beijing friendship association commemoration. "Peoples in all countries should strengthen friendly exchanges and join hands in the face of a complicated international situation."
What does a friendship with foreign countries association do, you may be wondering? Mainly set up sister city relationships, of which China now has 2,106 with 133 nations. Those include, by the way, linkups between Beijing and Hanoi, and Shanghai and Ho Chi Minh City, both established in 1994 during friendlier, more fraternal days between the two Asian neighbors.
Before it's here, it's on the Bloomberg Terminal.
LEARN MORE