Jimmy Page: We Didn't Steal Whole Lotta Love Riff
By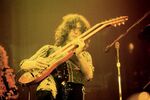 When we reported on a claim that guitarist Jimmy Page lifted the opening notes of 1971′s Stairway to Heaven from a song by the obscure band Spirit in the latest issue of Bloomberg Businessweek, the band, via Warner Music, declined to comment. Now, with the pending rerelease of the band's full discography, the questions about the band's originality are mounting.
In an interview with Page in the New York Times, Larry Rohter asked about criticism that Page used material from blues musicians such as Willie Dixon without acknowledging their authorship. (Dixon eventually reached a settlement that included a credit on Whole Lotta Love, which shares elements with his You Need Love, such as the words "you need coolin'.")
In the interview, Page responds:
Page: Yeah, but he [Dixon] got credited.
NYT: But only after a lot of legal wrangling, so I wanted to ask in retrospect how did that happen, and once it was brought to the attention of your management, why did they resist it?
Page: I had a riff, which is a unique riff, O.K., and I had a structure for the song that was a unique structure. That is it. However, within the lyrics of it, there's "You Need Love," and there are similarities within the lyrics. Now I'm not pointing a finger at anybody, but I'm just saying that's what happened, and Willie Dixon got credit. Fair enough.
The remastered versions of Led Zeppelin's first three albums come out June 3, on CD and vinyl. The new editions will include archival material curated by Page that shows songs in progress, including Stairway, Rohter writes. Because Stairway is on the fourth Led Zeppelin album, it is set to come out in a later release.
The legal drama is not over. The lawyer who says he's bringing a copyright infringement lawsuit over Stairway also plans to seek an injunction blocking its reissue, according to the Bloomberg Businessweek story. (Can you tell Stairway from Spirit's Taurus? Try our game and find out.) Assuming the archival recordings do come out, perhaps they will shed light on Stairway's iconic, and disputed, first notes.