pursuits
How to Turn a Profit on Preakness Bets
By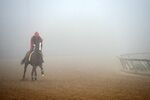 The running of the 139th Preakness Stakes on May 17 could see odds-on favorite California Chrome move closer to the Triple Crown, as the Kentucky Derby winner is the favorite to prevail. The race could also attract $80 million in total bets. That's about 50 times larger than the amount host track Pimlico sees on most other Saturdays. And it's more than twice the amount of money that will be bet on horse racing in the entire nation on a normal Saturday.


A lot of the extra cash infusion comes from people who have no skill at picking horse races. That means there will be a lot of irrational bets, creating opportunities for "positive expected value" bets—meaning that on average, your bet should turn a profit. With so many drunken amateurs betting, you have decent odds of making a profit.
The data pros have some interesting advice for horse race fans. I spoke with Billy, Tom, and Walter Hessert—three brothers who founded the online betting platform Derby Jackpot—to get insights on how novices can bet properly. They offered tips to avoid basic rookie mistakes. Derby Jackpot processes thousands of real-time bets every day on races throughout the country. Their extensive data on what people bet, vs. actual results, give us the framework for basic strategies.


Avoid the gray. The Hesserts say their favorite example of irrational betting comes down to color. "People pick the gray horses because they stand out in the field," says Tom. Most horses are brown or black, so grays get extra visual attention and additional money is bet on them. "But they aren't actually faster than the other horses." The lesson here: Don't bet on the gray horses. The odds are against you because you'll be paying too much money for the horse's talent level.
At the Preakness, the favorite can be a bad bet. Find five friends who know nothing about horses and ask them who is going to win the race. "If they all say the same horse, definitely don't bet on it!" A lot of casual gambling money is bet by amateurs at races such as the Preakness, and the top favorite is often over-hyped. The favorite horse might have a 25 percent chance to win, but the high amount of uninformed bettors means the market might be expecting a 50 percent chance of winning. That creates a negative expected value proposition, so you'd be wiser to stay away from the favorite. Look for better value on horses with middle-of-the-pack odds.
The biggest long shot is even worse than you think. On the racing track board, you might see a horse with 50-1 odds, far worse than any other option. "More likely that horse should really be 200-1 instead of 50-1," Billy says, "but lots of casual fans will put their dollar on the biggest long-shot, hoping to get a lottery-type win." That's why the Hesserts would advise you to stay away from the longest shots: You'll be paying a lot more money than you should, given the actual chance of that horse winning. "If you want long odds, bet a trifecta or superfecta," Walter points out. (A trifecta or superfecta is a bet on the correct order of the top three or four finishers, respectively.)
Seven is an unlucky number. An additional inefficiency comes up due to simple superstition: the number 7. If you ask someone to pick a number between 1 and 10, they will choose 7 more than 20 percent of the time. Horses are randomly assigned a post position for the race, and many casual fans will bet on the horse assigned to post 7. "Put a hundred bucks on seven" is how somebody might place their bet at the track. Derby Jackpot data show that, all else being equal, betting on 7 tends to be a bad move in the long run because the odds are out of whack: Too many irrational bettors have shifted the odds unnecessarily, creating a negative expected value wager.
Overall, the rationality of horse race betting can surpass that of financial markets. "Financial bubbles can persist indefinitely if people want to believe in them," says Billy, "but in horse racing, the finish line is three minutes away, so your irrationality can't last."
It's all right to procrastinate until the last minute. On Preakness day, the Hesserts estimate that the majority of the bets will be placed in the five minutes before the race starts. You can even make a bet from your phone until the moment it commences, though they advise allowing a 20-second cushion to make sure your bet is processed in time.
With all these tips, you now can bet more sagely than the average fan. Still, what's the answer to the top question on most fans' minds: Is California Chrome going to win? "Probably," says Billy, "but I wouldn't bet on it."
Before it's here, it's on the Bloomberg Terminal.
LEARN MORE