Godzilla's Biggest Challenge: Finding Love in China
by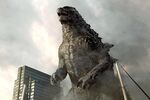 Godzilla is poised to destroy the world's box offices, nothing less than the global domination one would expect from a giant lizard backed by an almost $200 million budget. The film storms onto almost 16,000 screens in 64 countries on Friday, and it's likely to notch the third most lucrative opening of the year so far.
But the full measure of Godzilla's powers won't be known until June 13, when the mutant lizard tries to conquer China, the world's second-largest movie market. Chinese moviegoers now account for roughly 10 percent of global box office revenue, according to the Motion Picture Association of America. Last year, Chinese film fans spent $3.6 billion on the movies, and they are on pace to hit $5 billion this year.

In recent years, however, Chinese consumers have cooled on Japanese exports such as Toyota sedans and Nikon cameras as the two countries engage in diplomatic jousting over a string of remote and disputed islands. In December, Japanese executives braced for another fallout when Prime Minister Shinzo Abe visited a shrine memorializing World War II soldiers, a long-running flash point that reliably calls up China's brutal experience. (It didn't help that Abe's visit came on the birthday of Chairman Mao Zedong.)
Godzilla is a formidable beast—and getting bigger by the year—but it might not be big enough to step over that kind of international tension. Sure, the movie was made by two U.S. studios—Legendary Pictures and Warner Bros.—and filmed in Vancouver. The actor with the marquee role is most definitely Japanese. Originally named Gojira, the legendary matinee monster was born in Japan 60 years ago as a loosely veiled metaphor for the atomic bombs that had recently rained on Nagasaki and Hiroshima.
Producers are going out of their way to court Chinese viewers. Pacific Rim, another monster-from-the-deep film in the Godzilla tradition, garnered an impressive $112 million in Chinese ticket sales last year. One of the monster-fighting robots in the story was—not surprisingly—given a made-in-China origin and piloted by a trio of Chinese soldiers. The city most ravaged by the Godzilla-like enemies was Hong Kong. For the upcoming Transformers: Age of Extinction, meanwhile, Paramount Pictures filmmakers made sure to feature Chinese actors and shot part of the movie in Hong Kong and mainland China. Their goal: a box office record.
Chinese nationalism might even have a soft spot for cinema. The Amazing Spider-Man 2, a product of Japan-based Sony, has welcomed $56 million in Chinese ticket sales, by far its best result outside of the U.S.
The Godzilla team seems to have been delicate with the China issue. This time around the creature was born in the Philippines. The first scene of destruction: a Japanese nuclear plant. And while Chinese theaters get to see Godzilla in June, Japanese fans will have to wait until July for the local première.
Before it's here, it's on the Bloomberg Terminal.
LEARN MORE