Former SAC Capital Manager Steinberg Sentenced to Three and a Half Years
By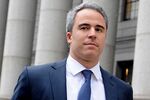 Michael Steinberg, an ex-portfolio manager at SAC Capital Advisors, was sentenced to 42 months in prison today after being convicted of insider trading involving two technology stocks as part of a case that reached the highest levels of his former firm. Delivering the sentence in a Lower Manhattan courtroom, Judge Richard Sullivan acknowledged he was moved by the huge volume of letters he'd received from Steinberg's family and friends, who wrote to the judge to beg the court for leniency. Steinberg is expected to appeal his conviction.
"I do intend to go below the sentencing guidelines, largely because of your character and who you are," Judge Sullivan said, referring to the prosecutors' recommendation of a longer sentence. "The life you've led, the testimony of all the people who wrote to me on your behalf."
The sentencing is both a serious event and a form of theater, the moment when the burden the criminal justice system places on families of accused criminals comes into brightest focus. In Steinberg's case, the room was packed with his wife, brother, parents, in-laws, and dozens of other relatives and friends. Based on the abundance of letters submitted on Steinberg's behalf, a significant number of people will be devastated when he goes to prison. For now, he is at home awaiting the outcome of an appeal that could affect his case. He and his wife, Elizabeth, have two children—an 8-year-old boy and 6-year-old girl. "It is impossible to convey in a letter the depth of Michael's character and how much he means to me and the kids," Elizabeth wrote.
For guidance about what lies ahead, Steinberg's family might look to the experience of James Fleishman, a former executive at the expert networking firm Primary Global, which was caught up in the government's insider-trading crackdown. The firm shut down, and a handful of its consultants and executives, including Fleishman, were convicted and sent to prison. Fleishman was arrested in December 2010, charged with facilitating the exchange of illegal information, and sentenced to 30 months in prison, which he served at a federal prison camp in Florence, outside Denver. When he came out he wrote a candid book about his experience called Inside Story: The Wall Street Criminal Who Wasn't.
Fleishman's wife was pregnant with their second child when he was arrested; his first child was almost 3 years old. While he was away at "camp," his wife was on her own with a newborn and a 4-year-old in California. The book discusses his anguish over how infrequently he saw his children and how he would explain his long absence to them. "I sat there a long time, feeling frozen and overwhelmed," he writes in the book, describing the first time his wife, kids, and mother were able to visit him in Colorado. "I was not sure how I would react but did not expect this. I felt paralyzed."
It brings to mind something the judge said before announcing Steinberg's sentence today: "The fact is you didn't need to commit these crimes," Sullivan said. "There are very few people in the history of mankind who've had all the material things you had—not to mention the immaterial things, a family who loved you, people who relied on you. There were lots of reasons not to engage in this conduct."
Before it's here, it's on the Bloomberg Terminal.
LEARN MORE