Carlyle to TPG Grab Discarded Company Assets as LBOs Slump
Jodi Xu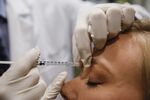 If you can't buy whole companies then buy bits and pieces of them. That's the logic propelling private-equity firms this year as they gobble up divisions shed by their parent.
These so-called carve-outs are giving private-equity firms something to buy and clean up, at a time when leveraged buyouts of entire companies have all but stopped, as U.S. stock indexes reach records. Through April, carve-out deals accounted for a quarter of all U.S. private-equity purchases this year, up from an average of 13 percent in the previous decade, according to data compiled by Bloomberg. Public-to-private LBOs -- which can generate healthy returns with relatively less effort -- are just 6 percent of all deals compared with an average of 50 percent over 10 years.
"In an environment where it's difficult to pay a premium to buy publicly traded companies, divestitures are one of the most attractive deals for private equity," said Chris Sullivan, head of the Americas financial sponsors group -- which is charged with advising private-equity firms on deals -- at Barclays Plc.
These transactions jumped to $13.3 billion this year through April, from an average of $8.8 billion in the same period over the previous decade. That extends a trend from last year, when private-equity firms bought 180 corporate spinoffs, the most since 2002, according to data compiled by Bloomberg.
Carlyle Group LP bought three business units, including Johnson & Johnson's medical diagnostics business, accounting for almost all of its $9.8 billion total deal value so far this year, according to data compiled by Bloomberg.
Red Lobster
Darden Restaurants Inc. today said it agreed to sell its Red Lobster chain to Golden Gate Capital for $2.1 billion.
More carve-outs are anticipated as shareholder activism and corporate mergers and acquisitions, up about 50 percent in dollar terms in the first four months of this year, lead companies to sell non-core units to satisfy antitrust concerns or eliminate overlap.
Valeant Pharmaceuticals International Inc. would need to sell its wrinkle treatment Dysport to make room for Allergan Inc.'s flagship product Botox if it succeeds in a takeover of the Irvine, California-based company.
"Carve-outs are the Holy Grail for private equity -- the businesses being sold are often non-core and therefore starved for both capital and attention," said Bill Sanders, head of the financial sponsors group at Morgan Stanley.
Private-equity executives say they can increase the value of discarded assets more easily than companies bought whole or from other buyout firms. They also typically demand more work because they're difficult to value while part of another company, and need to be separated from their parent.
More Complicated
"Carve-out deals are much more complicated, they require a greater amount of work and the risks are higher, but there are more ways to grow the business as a standalone company," said Pete Clare, co-head of the U.S. buyout group at Carlyle.
The rewards can be substantial: Carlyle and Onex Corp. have reaped a gain of three times their 2007 investment in Allison Transmission Holdings Inc., which they acquired from General Motors Corp. in a $5.6 billion deal, according to a person with knowledge of the matter. The funds have sold most of their holding in Allison since a March 2012 IPO, and retain about a quarter of the company, data compiled by Bloomberg show.
Chris Ullman, a Carlyle spokesman, declined to comment, while Emma Thompson, a spokeswoman at Onex, didn't reply to a to an e-mail seeking comment on profits from the Allison deal.
Recent carve-out transactions include Clayton Dubilier & Rice LLC's agreement in February to buy Ashland Inc.'s water technologies business for $1.8 billion, and TPG Capital's deal to acquire energy company Encana Corp.'s Jonah Field natural gas properties for $1.8 billion in March.
PE Slump
Private-equity transactions overall have fallen 22 percent to $53 billion through April, data compiled by Bloomberg show, led by the drop in buyouts of public companies. The value of those leveraged buyouts declined to $3.2 billion compared with an average of $34 billion in the 10 years through 2013.
The peak for buyouts came before the financial crisis, when U.S. funds struck $659 billion of deals from 2005 through 2007, including the purchases of HCA Inc., Hilton Worldwide Inc. and Biomet Inc., the data show. Buying inexpensive public companies was generally easier for the funds than carve-outs are, said Raymond Lin, a mergers and acquisitions attorney at Latham & Watkins LLP.
"The easy days for private-equity buyers are over when they profited from buying undervalued companies," he said. "Carve-out deals require a lot of up-front work that would incur additional costs and could affect returns."
The Standard & Poor's 500 Index, which reached a record this week, trades at 17.4 times reported profit, the highest level since 2010, according to data compiled by Bloomberg.
PE's Limits
While high valuations haven't scared off dealmaking between companies, buyout firms are motivated by different factors, said Gordon Caplan, chairman of the private-equity practice group at law firm Willkie Farr & Gallagher LLP.
"If business growth slows, companies have to buy things," he said. "Private-equity buyers can't create synergies like company mergers can in most cases."
Corporations are more willing to spin off divisions as management continues to clean up underperforming businesses and pay down debt following the financial crisis, said Tom Franco, a partner at Clayton Dubilier.
Activist Pressure
Shareholder activists also play a role in initiating carve-out deals by pushing management to shed units to increase value.
Software company Compuware Corp. sold three divisions to Marlin Equity Partners for $160 million in January after hedge fund Elliott Management Corp. pressured it to focus on the more stable enterprise business.
Illinois Tool Works Inc. announced in February that Carlyle agreed to buy its industrial packaging business for $3.2 billion after shareholder activist Relational Investors LLC pushed management to consider shrinking the business.
"We don't see the trend let up any time soon," said Barclays's Sullivan. "Sellers will get real interest from top-tier private-equity buyers in an environment where there is not a ton of competition in deals out there."
Before it's here, it's on the Bloomberg Terminal.
LEARN MORE