Bakken Crude Is Volatile, but Train Operators Have Made Mistakes, too
By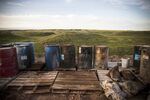 Is North Dakota oil too explosive to carry in a train? Seeing as how nearly all of the 1 million barrels of oil being railed across the U.S. every day come from North Dakota's Bakken shale region, it's an important question and one that the federal government, railroads, and oil companies are fighting over.
The oil out of the Bakken formation is thought to contain high levels of combustible gases, such as methane and propane, that make it more flammable than other types of crude. That may explain why first responders in some cases have had such a hard time putting out the fires that erupt when trains carrying crude derail.
Months before last summer's deadly crash in Quebec, the Department of Transportation launched an investigation to study the contents of Bakken crude and determine if it needed a separate classification. In a series of safety moves last week, the DOT singled out Bakken crude as being particularly dangerous and subject to extra precautions. Some of those precautions were then mandated, while others were left as recommendations.
A report released this week by the American Fuel & Petrochemical Manufacturers, a Washington lobbying group that represents U.S. oil refiners, insists that Bakken crude is safe and—while perhaps more volatile than other types of North American crude—does not need special classification.
The report tested 1,400 samples of Bakken crude for volatility and to see whether they caught fire at lower temperatures than other crude. It concluded that Bakken crude "is within the norm with respect to the hazard characteristics of a light crude oil."
On a commonly used scale to measure volatility called Reid Vapor Pressure, Bakken crude registered a 7.83. That makes it more volatile than West Texas Intermediate, which registered a 5.9, but more stable than Brent crude from the North Sea, which came in at 9.3. At the top of the volatility spectrum is something called Arabian Super Light, which came in at 20.7.
In colder temperatures, however, Bakken crude was measured becoming much more volatile, with an average score of 12.5. Still, the report states, "Bakken crude oil does not pose risks significantly different than other crude oils or other flammable liquids authorized for rail transport."
Officials from AFPM say their report proves that the oil train explosions aren't the fault of the crude or of the quality of tank cars carrying the oil, but of the railroads.  Charles Drevna, president of AFPMA, says the railroads face "major problems" over the maintenance and integrity of their rail networks. "Those are the things that need to be addressed; it's not just a different type of crude that is a problem," says Drevna.
Refiners have been among the biggest beneficiaries of the crude rail boom, particularly those on the East Coast that lack access to pipelines. For decades, they relied on imported crude from Africa and the Middle East. As prices for imported crude began rising above domestic oil prices two years ago, many East Coast refiners were pushed to the brink as Midwestern counterparts enjoyed big profits off cheap crude. Now that cheap U.S. crude is getting sent east by rail, refiners in New Jersey and Pennsylvania are much better placed, financially.
The debate over how to stop oil trains from exploding has pitted the railroads against the oil companies and refiners whose product they haul. While the railroads have urged the shippers to lease stronger tank cars, the oil and refining companies claim the bigger problem is that railroads need to do a better job at maintaining tracks.
In a number of cases, railroads do appear to be at fault. The Montreal, Maine & Atlantic Railway and three of its employees face criminal charges in the derailment and explosion of a train in Lac-Megantic last year; safety investigators found that brakes weren't applied correctly. A train that exploded in North Dakota in December crashed into a train carrying soybeans that had derailed across the tracks while traveling in the opposite direction. You can't blame the oil industry for that.
In the most recent accident, the April 30 explosion of a CSX train carrying Bakken crude through Lynchburg, Va., reports indicate that sections of the track bed had been washed away by heavy rains. A spokesperson for CSX declined to comment, saying that the accident is still under investigation by the National Transportation Safety Board.
Before it's here, it's on the Bloomberg Terminal.
LEARN MORE