Why America's Middle-Class Housing Crunch Is Here to Stay
by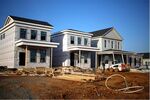 The usual spring home-buying season is here, and the prospects aren't pretty for middle-class families across the U.S.
New data from the real estate website Trulia found that over the past year the housing market has become less affordable in almost every major metro area. Of the 52 regions with more than a million residents, only two—Rochester and Hartford—saw the affordability crunch ease up. And in megaregions with at least 4 million residents, more than half the homes on the market are too expensive for middle-class buyers.
The affordability data, compiled by Jed Kolko, Trulia's chief economist, are all the more sobering when you take into account his outlook for the future. There aren't many signs of metro areas becoming more affordable soon.
As housing prices rise, affordability gets worse when incomes fail to keep pace and interest rates move higher. The most direct route to keep prices in check is to create more supply, but the construction that has come back from the recession mostly isn't in areas facing the biggest squeeze. While a few high-cost metros are now putting up more housing than they typically do, even those places are building far less than the national average. In the New York metro area, for example, building permits for 2013 indicate about 30 percent more housing construction than usual—just about two-thirds of the national average.
New York has roughly one-fifth the construction activity of Austin, a booming midpriced city. This fits with an historical pattern Kolko found. As the chart below shows, the most expensive cities—those further up on the chart—are squished to the left side, indicating they have less new building relative to their size.

Kolko says this is in part because high-cost cities have geographic limitations on where they can construct more housing. "Coastal California, south Florida, and parts of the Northeast are hemmed in by oceans, mountains, or both," he wrote. That means the main way to build more is to build denser projects, with taller buildings and smaller units.
Doing that can be very difficult politically. The impact of construction is "here and now," as Kolko explained in an interview, with the effects immediately felt block by block through the noise and nuisance of construction and changes to the local character of a neighborhood. The benefits of greater affordability are more diffuse, shared across a whole metro area and often delivering the most help to residents of the future. And, of course, existing homeowners benefit from the rising prices that come with tight supply. That's led these geographically constrained areas to make it harder to build.
With supply limited for the foreseeable future, could high-cost areas see declining demand that could keep prices in check? Domestic migration out of major metros and into midsize cities has picked up recently, and that has put a strain on such midsize cities as Austin and Denver. But new immigrants to the largest metros are more than making up for that outflow. In 2013 the New York metro area lost a net 362,359 residents to other areas in the country, but it gained enough new immigrants to reach a record high population.
The last way to ease the affordability crunch is to flip the equation, looking at incomes and not just at housing costs. If people earn more, high housing prices are less of a problem. But earnings for low- and middle-income families have been essentially stagnant for years. Declining real wages, for example, were a key reason that earlier this year, not a single home on the market in San Francisco was affordable on a teacher's salary.
This problem has led some cities to consider raising their minimum wage, but that, too, can be a long and often nasty political battle. Even in Seattle, which provides a model of a surprisingly civil compromise between business and labor to increase pay, minimum wages for all workers won't hit $15 an hour until 2019. Without housing costs going down or incomes rising in a meaningful way, little relief is in sight.
Before it's here, it's on the Bloomberg Terminal.
LEARN MORE