Vietnam Will Be the Loser in the Anti-China Riots
By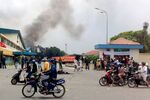 The latest round in the territorial dispute between China and Vietnam has had its first casualties. Anti-Chinese demonstrations have swept Vietnam since the two countries' ships attacked one another in the South China Sea last week, and yesterday Vietnamese protesters targeted a steel mill in the central province of Ha Tinh, leaving at least one Chinese person dead and 90 injured. The mob went after the factory even though its owner, the Formosa Plastics Group, is not even from mainland China. It's Taiwanese. But no matter: Hailing from a Chinese-speaking place and employing Chinese workers are crimes enough.
The Vietnamese government has only itself to blame for this disaster. After a Chinese state-owned company started drilling for oil in waters that Vietnam claims as its exclusive economic zone in the South China Sea, the leaders in Hanoi couldn't figure out a way to respond, according to Jonathan London, a City University of Hong Kong professor and Vietnam expert. One easy option was to encourage a nationalistic fervor among Vietnamese. "The Vietnamese 'street' is extremely upset by these most recent developments," he said Friday. "Vietnamese cyberspace is on fire."
Sure enough, nationalist fervor quickly got out of hand. "The riots appear to be the result of carelessly planned small-scale protests initiated by state-run or state-invested foreign ventures which then quickly exploded," London writes on his blog today. Making things worse, the leadership in Hanoi hasn't been able to agree on a strategy. With the leadership paralyzed about what to do, "the absence of a clear, coherent voice from Hanoi is doing great harm," he argues. "Instead of communicating with the world with the confidence it should, Hanoi is on the brink of a public-relations meltdown that would make even Malaysian aviation officials blush."
China is trying to take the moral high ground, saying Vietnam's government is at fault for the escalation of tensions. China has accused its neighbor of creating a media circus by arranging for reporters to cover the confrontation at sea between Vietnamese and Chinese ships. "This was all done for show in an attempt to present a false picture and deceive the public," said Foreign Ministry spokeswoman Hua Chunying, who called on the government in Hanoi "to immediately take effective steps to stop and punish these crimes, and to ensure the safety of Chinese citizens and institutions in Vietnam."
Besides, the official Xinhua news agency reported, Vietnam has no reason to be upset in the first place. The oil rig is drilling just 17 nautical miles from Zhongjian Island, part of the Paracel Island chain that China claims for itself. The drilling activites are "completely within the country's territorial waters," Xinhua reported on Sunday.
No matter which side wins control of the disputed area, Vietnam seems certain to be the economic loser from this fight. Even factories untouched by the protesters have closed temporarily. For instance, most of the Vietnamese suppliers to Li & Fung, the huge Hong Kong company that is the world's biggest supplier of clothes and toys, are closed. Its chief executive, Bruce Rockowitz, said today after a shareholder meeting in Hong Kong that the shutdown in production could last a week. Yue Yuen Industrial, the Hong Kong supplier of athletic shoes to Nike and Adidas, has shut its factories in Vietnam, which last year accounted for one-third of Yue Yuen's total production.
Moreover, even if the situation suddenly calms down, the anti-Chinese pogroms could hurt the Vietnamese economy for years to come. The country is supposed to be an inexpensive alternative to China, where wages are on the rise and low-cost manufacturers are struggling. For owners of factories in such Chinese cities as Shenzhen and Dongguan, it's time to move. And many of them are ethnic Chinese, not just from the mainland but also from Hong Kong and Taiwan.
So attacking Chinese people already in Vietnam is not only nasty and xenophobic; it's also stupid. These are just the people Vietnam needs to be attracting, not frightening away. The people making decisions about where to put their money are human, after all, and not surprisingly, they don't feel too comfortable in countries where mobs go on the rampage against them.
The Chinese know this very well, as China is paying the price for ethnic violence of its own from 2012. Angry about Japanese claims to disputed islands in the East China Sea, Chinese mobs attacked Japanese factories, Japanese cars, even Japanese restaurants. The riots increased Japanese executives' concern about their safety in the country and accelerated a shift in investment away from China and toward Southeast Asia.  Japanese direct investment in China plunged 32 percent last year, to $9.1 billion, according to the Japan External Trade Organization (Jetro). Meanwhile, Japanese investment in the Asean 5 (Indonesia, Malaysia, the Philippines, Thailand, and Vietnam) more than doubled, jumping from $9 billion in 2012 to $19.85 billion last year.
While China is too big for Japanese companies to ignore, Southeast Asia has become more attractive, with 75 percent of 3,471 companies surveyed by Jetro saying they're considering an expansion in Asean countries, up from 56 percent in 2011. The percentage considering an expansion in China dropped to 57 percent, down from 68 percent two years earlier.
Vietnam's protesters have already shown they can't distinguish between Taiwanese and mainland Chinese. Given the country's reliance on Japan, the Vietnamese government better make sure the country's superpatriots at least know the difference between Chinese and Japanese.
Before it's here, it's on the Bloomberg Terminal.
LEARN MORE