Turkey Police Fight Protesters After Deadly Mine Accident
Selcan Hacaoglu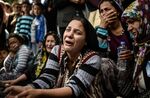 Turkish police used tear gas to disperse thousands of protesters after at least 284 people died in the nation's worst mine accident, a disaster that Prime Minister Recep Tayyip Erdogan said was "part of the nature of the business."
Labor unions declared a strike and demonstrators took to the streets of major cities including Ankara and Istanbul, as emergency services continued the effort to recover bodies after miners were trapped underground by a fire on May 13. Energy Minister Taner Yildiz said late yesterday that the number of confirmed deaths had risen to 284, and relief efforts would continue into Friday.
Police clashed with protesters in Kadikoy on Istanbul's Asian shore late yesterday. In Izmir, the biggest major city near the western town of Soma where the mine is located, at least 77 people were detained during protests throughout the day, according to the official Anadolu news agency. Amid the unrest the lira had its biggest drop since February, falling 1.3 percent against the dollar.
Erdogan's government, already beset by corruption allegations this year, has been criticized for its response to the tragedy. When the premier visited Soma on May 14 he said such workplace accidents weren't uncommon, and cited mining tragedies stretching back to the 19th century.
Kicking Protester
Protesters swarmed around the premier's car, at one point forcing him to take shelter in a supermarket. Further stoking tension was a picture that showed Yusuf Yerkel, an adviser to the prime minister, kicking a protester.
Yerkel said in a statement yesterday that he was sorry he had been unable to stay calm in the face of insults and attacks, according to Anadolu.
Vedat Unal, secretary-general of Turkey's Miners Union, said the accident at the Soma mine amounted to an act of murder. "This can't be explained with examples from the 19th century," he said by phone from Soma. "The state must adopt and enforce better health and safety measures."
The death toll in Soma has topped Turkey's previous record of 263 miners killed in a 1992 gas explosion.
Worker Safety
The mine is owned by Soma Komur Isletmeleri AS. The company said in a statement yesterday that the fire had spread so quickly that safety mechanisms weren't effective. It said the reasons for the blaze still aren't clear, according to Hurriyet newspaper. Chairman Alp Gurkan is scheduled to give a press conference from Soma at 10 a.m. Istanbul time today.
Turkey's economic growth under Erdogan's 12-year tenure has been accompanied by a worsening record on industrial safety, according to a post published by Amnesty International on its website on May 14. Turkey had the highest rate of worker deaths in Europe and the world's third-highest in 2012, it said, citing data from the International Labour Organization.
"Of the 3,000 miners who have died in Turkish mines since 1941, more than a third have died since 2002, when AKP came to power," the report said, referring to the Turkish initials for Erdogan's ruling Justice and Development Party.
Before it's here, it's on the Bloomberg Terminal.
LEARN MORE