The Growing Allure of Designed-in-China Fashions
Christina Larson
As usual, Susan Shen is immaculately and elegantly dressed. Sipping water at the members-only coffee shop of the Hong Kong Jockey Club's Beijing branch, she is wearing a loose emerald-green tunic dress and black overcoat—both designed by her own fashion label, Nisiss. She sports a stylish bob haircut and minimal makeup, except for a dash of scarlet lipstick.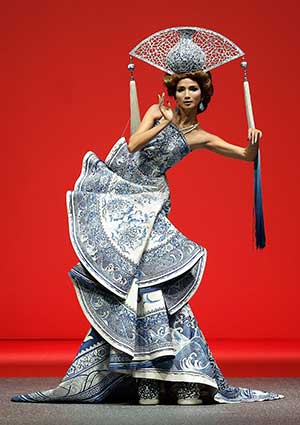 The look is simple and precise, which is also how she talks about her company's ambitions. A petite woman with an Audrey Hepburn-esque frame, Shen chooses words carefully in explaining Nisiss's growth strategy. She founded the luxury fashion label in 2006 in the southern metropolis of Guangzhou. In 2010, there were 15 Nisiss stores in mainland China. By the end of this year, there will be 30 stores. Last year, annual sales volume topped 150 million renminbi ($24 million).
Nisiss's signature garments are made of silk, often with a contemporary twist. "Silk can be very soft, but we can also create more sculptured, thicker silk," she says. Nisiss's silk trousers cost 4,000 to 5,000 RMB while evening dresses sell for about 9,000 RMB. Shen typically prefers solid colors to busy patterns and pays great attention to silhouettes, stitching, and textures. "Many elements of traditional Chinese craftsmanship haven't really evolved with modern designs and needs."
Another key aspect of the company's designs: no prominent logos. "The Nisiss look is much more serene and low-key," Shen says. "The philosophy is to take things slow and focus on details." Chinese luxury consumers are becoming more subtle and sophisticated, and among the thirtysomething professional women who form Shen's customer base, flaunting expensive logos is now considered a bit tuhao, or uncouth.
Nisiss isn't the only domestic brand hoping to connect with new customers. Guo Pei, a couture designer based in Beijing, says she's seeing increased demand for custom-made gowns as Chinese performers and socialites have more formal occasions to attend. She's also starting a demi-couture bridal line to appeal to a wider swath of Chinese women willing to splurge on a very expensive dress at least once.
While French and Italian designers were once synonymous with sophisticated taste, China's first lady, Peng Liyuan, has recently turned heads by wearing designs from another Guangzhou-based label, Exception, while accompanying her husband on overseas diplomatic trips. Dresses and handbags she's worn publicly have quickly become sought-after items in China.
Nisiss already has stores in China's leading cities: Beijing, Shanghai, and Guangzhou. Now the focus is on expanding into second-tier cities, where Shen believes "the market is almost ripe in terms of spending power."
The McKinsey Global Institute calculates that by 2025, of the world's 15 cities experiencing the fastest GDP growth, 11 will be in mainland China. Some of these cities may not yet be well known outside China: Huangzhou and Wuhan among them. But these are precisely the markets Nisiss is targeting.
Shijiazhuang, the smoggy capital of Hebei province, might not seem like an obvious fashion destination. And yet it's in such cities that Nisiss may have a distinct advantage. "The timing of entry into those markets is very important. We have an edge because there are not yet well-established international brands there," says Shen. Nisiss has also recently opened stores in Chengdu, Kunming, Dalian, and Taiyuan, among other cities.
In 2002, just 13 percent of Chinese households defined as "middle class" and above by McKinsey Greater China were in China's inland provinces. But the rapid growth of second- and third-tier cities means the geography of China's middle class is quickly shifting. By 2022, McKinsey predicts, 39 percent of the urban middle class will live in China's inland provinces.
Another possible advantage that domestic Chinese brands have: While easily recognizable foreign luxury brands, such as Louis Vuitton and Gucci, have suffered under President's Xi Jinping's ongoing corruption crackdown, up-and-coming Chinese fashion brands haven't yet become associated with graft or official gift-giving. Discreet may be the new bling.
Before it's here, it's on the Bloomberg Terminal.
LEARN MORE