Student Borrowers Are Less Wealthy Than Their Peers
By
Commencement season is here, and a new report from the Pew Research Center provides a glimpse of new grads' possible financial future. Pew looked at young households (those headed by someone younger than 40) and found that people who took on student debt lag in accumulating wealth.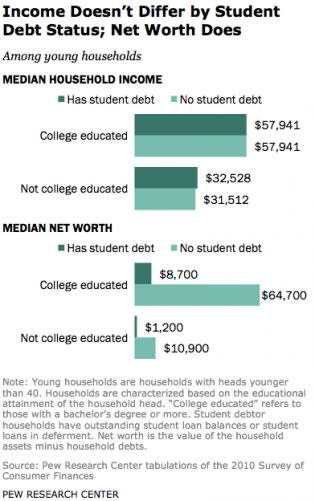 In the report, having student loans doesn't appear to have an effect on what someone earns, with graduates making about $58,000 a year and those who didn't complete school earning about $32,000. But having education debt does correlate to having a lower net worth, which takes into account assets and debts. Those who graduate debt-free have a net worth seven times larger than those who take out loans. The disparity is even greater for students who drop out of school but still take on debt.
Some of that difference in net worth can be explained by the student loans directly, but not all of it. Pew found that graduates with loans are just as likely as those without to have a mortgage, but they are more likely to take on other types of debt, in particular auto loans (43 percent vs. 27 percent) and credit card debt (60 percent vs. 39 percent). They take out smaller mortgages, but the size of their other debts are more likely to be larger. The average graduate with student loans owes $800 more in credit card debt and $1,400 more on car loans. Pew also said that graduates with student debt tend to have fewer assets, but it doesn't go into details about why that may be.
The Pew report is based on the Federal Reserve's most recent Survey of Consumer Finances, which is from 2010.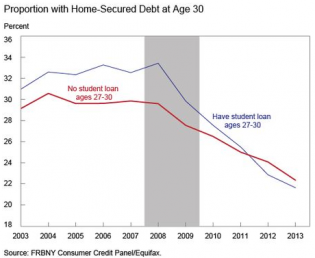 A lot has changed since then, as more students take on loans with growing balances. A new look at a more recent, though less detailed, dataset shows that young people with student loans have become less likely to take out mortgages than those who don't have education debt. Historically, the inverse was true among this dataset, because those with student loans tended to have more education than the rest of the population, which didn't take on debt.
The Federal Reserve began collecting data for the latest Survey of Consumer Finances a year ago, but the results, it says, won't be available until early 2015. That will give a better picture of whether the explosion in student debt is increasing the wealth gap.