Scenes From the Fast-Food Worker Protests Spreading Overseas
By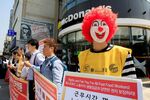 A worker movement for higher wages in fast-food restaurants that began in New York City about a year and a half ago has now spread to cities in Asia, Europe, and Central and South America. Even a few places in New Zealand and Africa are joining the far-flung effort to boost pay. Altogether, events are planned in more than 30 countries on Thursday, according to protest organizers.
Those involved have naturally taken their message to perhaps the easiest place to publicize any global movement: social media. In New Zealand, for instance, where the minimum wage recently increased to NZ$14.25 per hour ($12.31), workers are fighting for a raise to NZ$15 as well as more stability in the number of hours worked per week. Activists eventually want to push for a "living wage" of NZ$18.40:
In Japan, meanwhile, union members hoisted signs reading "Fair Pay. Respect. For All Fast Food Workers" at a demonstration in Tokyo:
In Seoul, protesters rallied outside a McDonald's restaurant:
Indonesia, the fourth-largest nation by population, is now "considered a 'must-have' market by global consumer goods companies," reported the Financial Times. Food-service workers took the street in Bandung, a city of almost 2.4 million people:
And in Manila, workers staged a flash mob during morning rush hour and sang Let It Go from the movie Frozen inside a downtown McDonald's, according to a report on AOL.com. Below, workers are seen demonstrating outdoors:
In London, protesters demanded guaranteed hours and "better pay, better conditions, and dignity in the workplace":
Workers in Brazil are fighting wage theft, low pay, and mistreatment of pregnant workers, reported the Guardian:
The multicountry effort is being led by the International Union of Food, Agricultural, Hotel, Restaurant, Catering, Tobacco and Allied Workers' Associations (IUF), a federation of 396 trade unions in 126 countries, which gathered workers and union leaders last week. U.S. workers remain active, too, with protests for $15-an-hour wages staged again on Thursday, the latest in a series of one-day work actions around the country.
McDonald's said in a statement that the chain offers "competitive pay based on the local marketplace and job level" and that its franchisees comply with local laws. "This is an important discussion that needs to take into account the highly competitive nature of the industries that employ minimum wage workers, as well as consumers and the thousands of small businesses which own and operate the vast majority of McDonald's restaurants."

Before it's here, it's on the Bloomberg Terminal.
LEARN MORE