Orange in Talks With Bouygues as Minister Calls for Telecom M&A
Marie Mawad and Francois de Beaupuy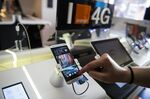 Orange SA and Bouygues SA are exploring a potential combination after French Economy Minister Arnaud Montebourg called for the country's mobile-phone companies to merge.
Stephane Richard and Martin Bouygues, the chief executive officers of Orange and Bouygues, have held preliminary discussions about a linkup between France's biggest and third-largest operators, people familiar with the matter said. The talks may not result in a deal, and the companies are also weighing options such as network sharing, the people said, asking not to be identified because the deliberations are private. France's government owns 27 percent of Orange.
"There are multiple discussions. There are other discussions ongoing, but these ones exist," Montebourg said on RMC radio today, referring to Orange and Bouygues. "What I can tell you is that the government favors and encourages the return to three operators."
More than two years after discounter Iliad SA became France's fourth network operator, resulting in price cuts and hurting profits across the industry, carriers are seeking to merge. Last month, Vivendi SA snubbed Bouygues's offer to acquire its SFR unit, which is France's second-largest phone operator, and agreed instead to sell the business to cable tycoon Patrick Drahi's Altice SA.
About Bouygues
The failed bid has turned Bouygues Telecom, France's third-largest mobile-phone company, into a takeover target itself, with Iliad open to discussing a purchase of the business, people familiar with the matter said in March.
Telecommunications isn't the only industry France is intervening in. Montebourg this week signed a decree giving the government the power to block foreign takeovers in what it considers strategic industries, as politicians debate over General Electric Co.'s $17 billion bid for Alstom SA's energy units and a competing Siemens AG offer.
Montebourg, which unsuccessfully backed Bouygues's bid to buy SFR, is pushing Alstom, in which Bouygues has a 29 percent stake, to reject General Electric's offer for its energy units. The minister is backing a proposal by Munich-based Siemens to swap most of its rail business for Alstom's energy assets because the German bid represents an "alliance," while GE's offer would be an "absorption" of Alstom.
Bouygues Jumps
Bouygues rose as much as 5.5 percent and traded 3.9 percent higher at 32.91 euros at 11:01 a.m. in Paris. Its phone unit could be valued at 5 billion euros ($6.9 billion), according to estimates by Societe Generale SA and Natixis in March. Orange climbed 1.1 percent to 12.40 euros, giving the company a market value of 32.5 billion euros.
Representatives for Orange and Bouygues, both based in Paris, declined to comment on their discussions.
Orange will be mindful of value creation and the legal risks of a potential transaction, it said yesterday. Bouygues, the construction and media conglomerate that lost a bidding war for rival phone operator SFR last month, said it's open to a tie-up with another telecommunications company as a price war dents earnings. Neither company would identify who their potential partners are.
"All scenarios are on the table," Bouygues Chief Financial Officer Philippe Marien said during the company's earnings conference call yesterday. "All market operators are looking at hypotheses, opportunities, work sharing, partnerships and commercial exchanges."
Antitrust Concern
In a joint letter to Prime Minister Manuel Valls yesterday, representatives of the CFE-CGC union at Orange and Bouygues Telecom called for the carriers to merge to save jobs.
"We're evaluating our options, but nobody from the side of the government has asked me to study the purchase of Bouygues Telecom," French newspaper Les Echos quoted Orange's Richard as saying yesterday.
A combination of Orange with Bouygues Telecom would create an entity with about half of France's wireless users, according to data compiled by Bloomberg. Such a merger will likely attract intense scrutiny by antitrust regulators.
Numericable Group, Altice's French cable unit, said today it's in exclusive talks to acquire Virgin Mobile in France from owners including Carphone Warehouse Group Plc for 325 million euros including debt. Virgin Mobile is France's largest virtual network operator, which doesn't own a network and leases capacity from another carrier to sell services.
Bouygues's operating loss deepened in the first quarter amid the French mobile price war, spurring the company to seek 300 million euros in new annual savings at Bouygues Telecom by 2016.
Bouygues Telecom yesterday posted a 23 percent drop in first-quarter earnings to 163 million euros leaving out interest, taxes, depreciation and amortization as revenue dropped by 5 percent. It said it lost 79,000 mobile customers during the period and gained 100,000 fixed broadband users.
Before it's here, it's on the Bloomberg Terminal.
LEARN MORE