Las Vegas's Lucrative Nightclubs Pump Up the Spectacle
World-famous DJs and acrobats serving bubbly draw younger crowds to Sin City clubs
By and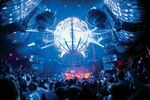 At the Marquee Nightclub at the Cosmopolitan of Las Vegas, a $1,500 bottle of Champagne is topped with a sparkler and delivered by a waitress under a spotlight. Life, a competitor opening down the street in August, will up the ante: Patrons will order by tugging on a rope; an acrobat will descend from the rafters to serve the bubbly.
That club, at the new SLS Las Vegas Hotel & Casino, will be the latest to pull out all the stops. Sin City, home to 7 of the 10 top-grossing bars in the U.S., according to Nightclub & Bar magazine, has become a laboratory for all things innovative in the $20 billion industry. In Las Vegas, revelers are no longer content to nurse drinks and watch dancers in ostrich-feather headdresses doing leg kicks. "They don't want to see a show," says Sam Nazarian, chief executive officer of SBE Entertainment, which owns the SLS. "They want to be a part of it."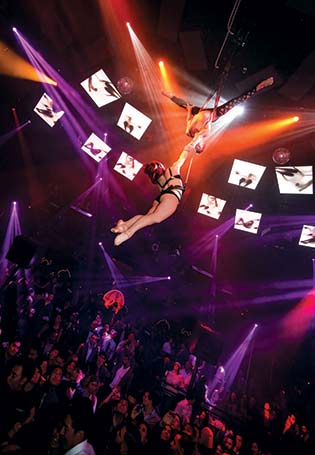 The contest to create the next over-the-top club demonstrates just how much Las Vegas has changed. Restaurants and drinking establishments used to operate at a loss to lure gamblers; now most of the revenue on the Strip comes from noncasino businesses. A nightclub can draw thousands of paying guests a night, and unlike at a casino, there are no debts to collect from high rollers, says Steve Wynn, founder of Wynn Resorts. "It's all cash and credit cards—no markers."
But clubs in Vegas have to do a lot more than sell drinks and play music. At the Wynn Las Vegas casino, Tryst features a 90-foot waterfall and the Encore Beach Club has outdoor showers with stripper poles. Wynn Resorts has built a recording studio on the grounds for its DJs, who can earn $400,000 a night mixing music for 9,000 clubgoers. Fireworks displays starting at $20,000 will be on the menu at Drai's, the nightclub on the roof of Caesars Entertainment's Cromwell, set to open May 21. Tap dancers hoof it on the tables at Rose.Rabbit.Lie. at the Cosmopolitan. Cirque du Soleil acrobats fly from ropes above the dance floor at Light, a club at MGM Resorts International's Mandalay Bay Hotel & Casino.
At MGM, the largest operator on the Strip, gambling generates about 30 percent of revenue. The rest comes from clubs, restaurants, shows, shops, spas, and hotel rooms. That's the reverse of what CEO James Murren found when he joined the company in 1998 as chief financial officer. Vegas is attracting younger people, who spend less on slot machines and poker than on other entertainment, Murren says. The visitor's average age fell to 46 last year, from 51 in 2008, according to the Las Vegas Convention and Visitors Authority. "I don't know if there's any city or tourist destination that has seen such a seismic change in demographics from an age perspective," Murren says.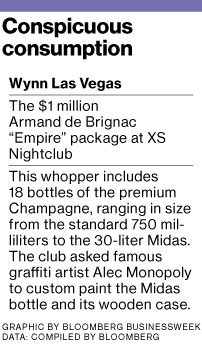 MGM's latest investments target the new demographic, with $600 million in nongambling projects planned for the next two years, including a $100 million private park with nine open-air bars and a $20 million music festival site on 33 acres once slated for a casino. "These are profitable enterprises, with high return on investment," Murren says. But they don't come cheap: He says it cost $130 million to build the five-story Hakkasan Las Vegas next to the MGM Grand, the most ever spent on a nightclub. Superstar DJs Tiësto, Steve Aoki, and Calvin Harris have signed on to perform at the club.
Club owners depend heavily on customers willing to reserve a table by committing to spend thousands of dollars on booze. This so-called bottle service makes up about 70 percent of a Vegas nightclub's revenue, according to Jesse Waits, managing partner of the Wynn's XS and Tryst clubs. At the Cosmopolitan's Marquee, which tied with XS as the nation's top-grossing bar with more than $80 million in revenue in 2012, prices start at $350 for a bottle of Absolut vodka. Nazarian's team at Hyde at the Bellagio has put together the "$250,000 Package," which comes with a 30-liter bottle of Armand de Brignac "Ace of Spades" Champagne and the privilege of flipping the switch to turn on the casino's famous musical fountains. The club has sold two so far. "You're not doing it to drink the Champagne," Waits says. "We get girls. Guys chase them and spend money."

Nazarian opened his first nightclub, Shelter, on the Sunset Strip in Los Angeles in 2003. His Hyde Lounge down the street later became a celebrity haunt; he says the club gave an early boost to gossip website TMZ.com. "They built their business showing all the celebrities who didn't get into Hyde," Nazarian says.
He opened the Vegas Hyde in 2011. His SLS Las Vegas is a $415 million remodeling of the former Sahara, which Nazarian bought in 2007. Rat Pack members Frank Sinatra, Dean Martin, and Sammy Davis Jr., who used to hang out there, wouldn't recognize it. A drink by the SLS pool will be enhanced by 3D images of fish or flowers spilling from the sides of a seven-story parking garage and an adjacent hotel tower, courtesy of four $1 million projectors from South Korean telecommunications provider KT. Customers at the hotel's three clubs will be able to post Twitter updates or Instagram photos on screens that will display them as part of the show.
Nightclub experiments that succeed in Vegas have a tendency to spread. "They have the capital to try out these new ideas," says J.C. Diaz, executive director of the Washington-based Nightclub Foundation, a trade group. "If it works, a lot of people will mimic them."

Before it's here, it's on the Bloomberg Terminal.
LEARN MORE