Alex and Ani's Charmed Life
A jeweler's exploding sales are funding new brand extensions
By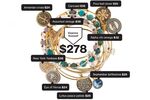 Carolyn Rafaelian, founder and chief executive officer of jewelry maker Alex and Ani, runs a multimillion-dollar company, but she sounds a lot like a New Age guru. "One thing about the brand is that it's been created as a way for individuals to express spirituality," she says. "We all want to learn about ourselves, but we very seldom take the time out to think about what makes us tick. When you come to the store or go to our website, it's a place that encourages you to answer that question."
Alex and Ani, named after Rafaelian's daughters, sells its charm bracelets at its own 41 shops and upscale stores such as Bloomingdale's and Nordstrom. They are also available at Major League Baseball stadiums and Walt Disney theme parks. The company's marketing, including a 30-second spot that aired during this year's Super Bowl, invokes the Oprah-era conviction in the power of positive thinking, along with the glory days of American manufacturing. Alex and Ani's bangles and charms are made in Cranston, R.I., from recycled brass. The bracelets, which are marketed with printed cards bearing a mantra—one reads "Share prosperity"—retail for as little as $28, making them affordable gifts for a bridesmaid or sorority sister. Trendsetting celebrities, including Selena Gomez and Taylor Swift, have been photographed wearing them by the armful.
Like Pandora, a publicly traded Danish company also known for selling charm bracelets, Alex and Ani depends on repeat customers who build customized jewelry by wearing many pieces at once. "It's not fine jewelry," says Pam Danziger, whose company, Unity Marketing, helps brands reach affluent consumers. "What makes it special is that it lets you create a statement that's unique to you."
Ashley Smith, of New Brunswick, N.J., stopped in at a heavily incensed Alex and Ani shop in Manhattan's SoHo neighborhood on a Sunday afternoon in May and bought her first Alex and Ani bracelet. Smith selected a charm depicting a piece of a jigsaw puzzle, to commemorate her 25th birthday. "This year life's a puzzle," she says. "Next year, who knows? Maybe I'll have a baby."
In recent years, Rafaelian has expanded into a motley array of new businesses. Since 2012 she's opened a trio of cafes in Rhode Island called Teas and Javas, and an advertising agency called Seven Swords Media, named after the seven archangels. One of the latest additions, the Alex and Ani Institute in Cranston, charges $3,785 for a three-day personal development retreat and strives "to awaken, nurture, and inspire human development through self-understanding and systems thinking." This year the company began selling a line of perfumes and lotions called Scent 7, which promises to "harmonize your core." Alex and Ani is "a lifestyle brand, but more important, it's a way-of-life brand," Rafaelian says. She adds: "We have different entities all with the same DNA and footprint, which is me."
Rafaelian was working as a costume jewelry designer, selling private-label baubles to Victoria's Secret and Express, when she launched Alex and Ani in 2004. The bangles weren't an immediate hit: The company recorded revenue of $2.2 million in 2009. The next year, Rafaelian installed Giovanni Feroce, a former U.S. Army major, as CEO. Under his watch, the company grew from 23 employees to more than 1,000 and raised a $60 million private equity investment from San Francisco-based JH Partners. Sales last year were $230 million, according to the research company PrivCo, which expects them to climb to $351 million this year.
Feroce left the company in March, amid reports in the local press that his relationship with Rafaelian had become strained over the company's pace of growth. "I'm at the point in my life where I want to do big things fast," he says, adding that he still sees big potential to expand beyond jewelry sales: "People forget that Ralph Lauren started with a tie." Alex and Ani spokesman Gregg Perry says the company won't publicly discuss the reasons for Feroce's departure.
For now, Rafaelian is leading the company while she searches for a new CEO. The task for whomever she hires will be deciding which new product lines offer the best opportunities for growth, says PrivCo analyst Adriana de Lozada. "The company is becoming big enough to IPO." Asked about plans to go public, Rafaelian demurred, saying, "I need to get the foundation as rock solid as I can before I make any moves that would make things even more exciting."
The company's online marketing chops are key to figuring out what the customers want, says Ryan Bonifacino, vice president for digital strategy. By profiling online shoppers based on their Internet behavior, the company has identified 45 million people it considers good leads. Bonifacino says he's using the data to market to hip moms and "that very influential urban professional who loves to go to music festivals."
At Rafaelian's direction, the company uses numerology to choose the most auspicious dates for store openings and occasionally employs shamans to bless its workplaces. "I love knowing and feeling that there is a higher power," says Rafaelian, who is also the owner of Carolyn's Sakonnet Vineyard, a winery in Rhode Island. "Why wouldn't I have some of the beautiful souls I know bless my grapes at the winery or create a conducive environment at the factory?"