GM Recalls Bring 2014 Total to Record 11.2 Million in May
Tim Higgins, Jeff Plungis and Jeff Green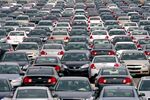 General Motors Co., recalling an additional 2.7 million vehicles for potentially faulty brake lights and other issues, pushed its total number of cars and trucks called back for repairs in the U.S. this year to 11.2 million, the most ever for the automaker.
The 2014 total through mid-May is more than GM recalled during the previous six years combined, according to National Highway Traffic Safety Administration records. The Detroit-based company's previous peak year for recalls in the U.S. was 10.7 million in 2004, according to NHTSA records.
Chief Executive Officer Mary Barra is already grappling with the recall of 2.59 million small cars for a defective ignition switch linked to 13 deaths. She reorganized the engineering department, added personnel to investigate problems and introduced a program to encourage employees to flag safety concerns. An internal report is due later this month.
The bulk of yesterday's five recalls cover 2.44 million Chevrolet, Pontiac and Saturn cars dating back to the 2004 model year. Corrosion can affect wiring and cause brake lights to fail to illuminate, Detroit-based GM said yesterday in a statement. The company has received hundreds of complaints and said it's aware of thirteen related crashes and two injuries. GM said it doesn't know of any fatalities.
"The recent ignition recall has lead us to reexamine really every part of our business to make sure our customers and their safety are at the heart of everything we do," Jeff Boyer, vice president of GM global vehicle safety, said in an interview. "As part of that we've made some changes in our overall recall process and these changes, I'm sure that you've seen, have resulted in a much larger than normal number of GM vehicle recalls since the beginning of the year."
Growing Tally
Yesterday's recalls total 2.99 million worldwide, Alan Adler, a GM spokesman, said in an e-mail. The company said it expects to take a charge of as much as about $200 million in the second quarter, primarily for the cost of recall-related repairs announced in the quarter. That's after a $1.3 billion charge in the first quarter for recall costs. The biggest U.S. automaker said it has now recalled 12.9 million vehicles worldwide.
Its shares fell 1.7 percent yesterday to $34.36 and have dropped 16 percent this year.
The latest charge takes "off the table" GM's goal of a 10 percent earnings before interest and taxes margin in North America in the second quarter, Joseph Spak, an analyst with RBC Capital Markets, said in a note to investors yesterday. "Given greater focus on quality and recalls, we believe it's fair to assume warranty accruals have to be raised which is an added cost of business," he wrote.
Industry Totals
Congress, federal regulators and the U.S. Justice Department are all looking into why it took the automaker more than a decade to recall the 2.59 million cars with switches that allowed keys to slip out of the "on" position, shutting off the engine and disabling air bags.
With GM's actions yesterday, the industry in the U.S. is on track to exceed last year's 22 million recalls and for the most vehicles since 31 million in 2004. Industrywide recalls were 19.9 million for the year so far for the U.S., according to a combination of National Highway Traffic Safety Administration data and new recall information from GM.
The 2.44 million vehicles recalled yesterday for brake lamps include the Chevy Malibu from 2004 to 2012, the Malibu Maxx from 2004 to 2007, the Pontiac G6 from 2005 to 2010 and the Saturn Aura from 2007 to 2010. GM issued a technical service bulletin in 2008 describing a fix for its dealers and conducted a more limited recall in 2009 that included only 2005 model year cars.
Mixed-Up Lights
NHTSA informed GM in a Nov. 14 letter that it had upgraded a defect investigation into brake-light wiring in the Pontiac G6. Regulators had 447 reports of malfunctioning lights that worked in reverse -- lighting when the pedal wasn't depressed and turning off when the brake was applied.
The agency said it had received similar complaints about the Malibu and the Aura. Some vehicle owners also complained that cruise control wouldn't engage and their stability control and traction control warning lights came on, it said.
GM is also recalling 111,889 of model year 2005-07 Corvettes to fix a potential failure of low-beam headlights. Over time, engine heat can cause a wiring malfunction leading the lights to work only intermittently, GM said in its statement. There have been several hundred complaints but no crashes, it said.
NHTSA upgraded its defect investigation into the condition "to further examine the consequences, frequency and scope" of the problem last August, according to documents on the agency website. GM is also offering to fix the problem for 103,068 of the 2008-2013 model year cars, even though they're not included in the official recall.
Hydraulic Brakes
In addition, GM yesterday recalled 140,067 2014 Malibu sedans with 2.5 liter-engines for hydraulic brake issues and 19,225 Cadillac CTS cars from 2013 and 2014 for windshield wipers that can become inoperable. The company also recalled 477 of its 2014 Silverado and GMC Sierra pickups and 2015 Tahoe sport-utility vehicles for tie-rods that might not be tightened enough and that can lead to a crash, GM said.
As part of her response to the recall crisis, Barra named Boyer vice president for vehicle safety in March and he's part of a newly aligned engineering department aimed at reducing compartmentalization and catching future safety issues.
Executive Changes
John Calabrese, vice president of global vehicle engineering, is retiring and his department is being split into two parts with new executives overseeing the units. As part of the changes, Boyer's team has been given about 35 new safety investigators to speed up reviews of potential issues.
Boyer said his team has been focusing on pending reviews to resolve them quicker.
"We also want to make sure we expedite any new issues that we need to take appropriate action on, and we're doing that promptly as well," he said in an interview. "We're not waiting for trends to emerge."
Barra has tasked Jenner & Block LLC Chairman Anton Valukas, who served as the Justice Department's examiner of the downfall of Lehman Brothers Holdings Inc., to help lead the automaker's internal probe of the recall along with GM General Counsel Michael Millikin. She's also asked for a review by lawyer Kenneth Feinberg, who determined compensation for survivors of the Sept. 11 and Boston Marathon terrorist attacks, to work on what GM should do for victims of the crashes.
Since becoming CEO in January, Barra has named a new head of human resources and placed Bob Ferguson, head of Cadillac, in charge of public policy as well. GM's top spokesman, Selim Bingol, left last month. The company has said it had put two engineers on paid leave for their roles leading up to the recall. The engineers are Ray DeGiorgio and Gary Altman, according to two people familiar with the matter, who asked not to be identified commenting on a personnel matter.
Before it's here, it's on the Bloomberg Terminal.
LEARN MORE