Germany's Samwer Brothers Take Their Web Copycat Act Global
After stumbling, their Web venture pushes into hardware
By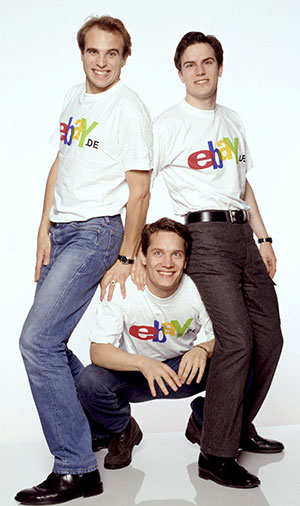 Oliver, Marc, and Alexander Samwer have had a rocky couple of years. The German brothers had built their startup incubator, Rocket Internet, into a billion-dollar business by staking, staffing, and helping to launch clones of American shopping websites such as EBay and Groupon tailored for European consumers. Often, they persuaded the knockoffs' U.S. counterparts to buy their websites. In the past two years, the Samwers have been forced to rethink that formula since the flash-sales site Fab eclipsed Rocket's imitator in Europe, Bamarang. Fab's success prompted companies such as Airbnb to fight the clones instead of paying them off. The Samwers declined to comment for this story.
Rocket has had a couple of hits, such as Zalando, a Zappos clone, and Zalora, its sister site in Southeast Asia. But since 2012 it has shuttered or cut staff and offices at more than a half-dozen of the startups it's backed. Among the casualties: Amazon.com clone Mizado; furniture retailer Mebelrama; and OfficeFab, an office supplies site. There have been cutbacks at jewelry site 21Diamonds and furniture seller Home24.
The clone strategy is still compelling, and the Samwers are adapting to growing e-commerce markets. They're bringing new online shopping sites and some of their surviving ones to Latin America, Southeast Asia, and Africa. Berlin-based Rocket has teamed with Ooredoo, a telecom carrier based in Qatar, to launch e-commerce companies in Asia and the Middle East. In Brazil, the Samwers are funding the Zappos-style apparel company Dafiti, which has a successful online magazine in Portuguese that features local models and articles promoting the latest fashions. In India, Rocket-backed Jabong.com sells local fashion labels such as Fabinidia alongside Crocs and other American brands. In Myanmar, Samwer-launched Work.com.mm is a Monster-style job board used by companies such as Unilever, Nestlé, and Hyundai Motor for recruiting.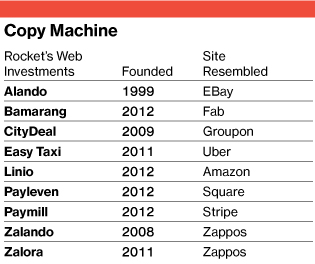 In Europe, the Samwers are developing and staffing startups that focus on financial-services and computing hardware, areas many venture capitalists avoid because of complex regulations and high startup costs. Payleven, backed by Rocket, is similar to Square's smartphone-compatible credit card reader. Payleven was more difficult to build than a translated website: European credit cards contain a chip to make them more secure, and shoppers often have to enter a PIN to use them. To comply with financial regulations, Payleven developed a smartphone attachment with a chip sensor and PIN pad that processes transactions wirelessly and securely.
The gizmo costs €79 ($109); Square's plastic card reader, designed to be used with the magnetic-swipe cards prevalent in the U.S., is free. Square doesn't yet operate in Europe. Payleven wouldn't disclose financials but says its business has been growing 30 percent a month since early last year.
Rocket's forays into hardware and financial services also help support other companies in the Samwers' portfolio. Easy Taxi, a Rocket-backed cab-hailing app in emerging markets such as Ecuador, Nigeria, and the Philippines that is similar to Uber, uses Payleven to process credit cards. "Profitability is incredibly elusive in emerging e-commerce markets," says Zia Daniell Wigder, an analyst at Forrester Research.
Paymill, another of Rocket's ventures into financial services, is an online payments processor like San Francisco-based Stripe, which is used in apps such as Lyft and Instacart. (Paymill co-founder Jörg Sutara acknowledges, "I would say there are similarities between the two companies.")
Several Rocket-backed shopping sites rely on Paymill to handle credit card transactions in more than three dozen countries, from Andorra to Turkey. That's cheaper than making each site build or buy a separate processing system. "They're facing those payment problems with all of their e-commerce companies around the world," Sutara says. "It's a huge challenge, because it's a very regulated business, and you also have to take the risks very seriously."
Before it's here, it's on the Bloomberg Terminal.
LEARN MORE