Fast-Food Strikes Go Global, With Different Demands
By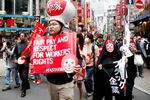 The fast-food strikes that began in U.S. cities 18 months ago have now gone global. Workers and activists in some 30 countries planned to walk off the job or protest on May 15, following a wave of demonstrations in the U.S. asking for better wages and working conditions and the right to unionize without being harassed.
In some other countries, however, unions are already strong and wages are negotiated. Everyone's favorite example: McDonald's workers in Denmark earn $21 an hour, a little more than the country's de facto minimum wage. What links these fast-food protests when pay is so different in each market?
"In general, the strikes are about global solidarity," says Massimo Frattini, the international coordinator of the restaurant division of a labor federation. "The wage situation is very different country to country. But the working conditions are the same."
The demand for a minimum wage of $15 an hour in the U.S. has received a lot of attention. McDonald's recently included labor activism and the issue of income inequality more generally as potential risks to its business. But the company and its many franchisees haven't given any indication they intend to raise wages. Nor have any of McDonald's competitors.
For the labor organizers, increasing the pressure overseas—where many fast-food chains expect to do much of their business in the coming years—makes sense. Frattini said Thursday's protests in India and Brazil had good turnouts, as did those in Germany.
Nothing was going on China, though, the biggest market of them all. Frattini says that's because the country has no independent unions to help organize protests.
Before it's here, it's on the Bloomberg Terminal.
LEARN MORE