Eight Perfect Weekend Bags For This Summer (and the Rest of Your Life)
by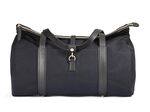 Summer beach weekends are high stakes endeavors; you have to pack travel, entertainment, relaxation, and a grudging return to the city in under 72 hours. Why spend a quarter of them lugging around an unwieldy suitcase? In time for Memorial Day, here are eight perfect weekend duffels.
The ideal weekender has to be roomy enough for a change of clothes, wide enough that you can fit a pair of shoes or two, and durable enough to bounce around in the back of your car or squished into an overhead compartment of a plane. In a pinch, it should even withstand getting dragged onto the beach for use as a pillow.
Oh, and while it's doing all that, it has to look good. Really good.
1. The Cavalier II No. 97 Vintage Chestnut Leather Duffel Bag from Ghurka.

Unstructured bags are often incredibly convenient, but they can look a little flaccid. Ghurka, the Connecticut-based leather company, has crafted a duffel that has the courage of its convictions. The company offers a range of 12 color and fabric options -- unusual in this category -- though one can't go wrong with the classic chestnut. $1,395 at ghurka.com.
2. The Bond Week End Bag From Isaac Reina.

Paris-based designer Isaac Reina makes a standout weekend bag stitched from honey-colored calfskin. The distinctive shape is designed to be semi-collapsible, so if you've packed light, the contents of your bag won't bounce around and wrinkle. 1480€ (About $2,000) at issacreina.com.
3. The Boston Bag from Brioni.

Not everything fits into a duffel, especially if you want to carry a beach towel or two. Brioni's bag is higher and taller than a normal weekender, making it the perfect choice for an extra few days away (or for chronic over-packers). $5,450 at brioni.com.
4. The M/S Adventurer from Mismo.

Mismo, a Danish bag company, makes a sturdy duffel with water-repellant coating on the canvas exterior. The leather is vegetable-tanned, and even the brass is varnished. While it's not the sleekest choice, it looks great and is built to last. 472€ (about $650) at mismo.dk

5. The Men's Pebbled Leather Duffel Bag from Lanvin.

A conservative beach-goer might argue it's better to make a splash in the waves than with your luggage. For those who heartily disagree, this fire-engine red bag from Lanvin is the perfect counterpoint. $2,250 at bergdorfgoodman.com.
6. The Classic Duffel 24 From Saint Laurent.

Now, the (proverbially) bullet-proof choice: this duffel from Saint Laurent has clean lines, supple leather, and just the slightest bit of contrasting hardware. It will look great just about anywhere -- Nantucket to Nanjing, Palm Beach to Provence -- and will last a lifetime. $2,490 at ysl.com.
7. The Rugby Duffel from Ludwig Reiter.

For enthusiasts of the exotic, Austrian shoe and accessory company Ludwig Reiter makes a "rugby" duffel out of a novel combination of felt and leather. Felt is surprisingly sturdy, and in combination with the leather base and handles, this will look just as good, and last just as long, as any of the other options out there. 698€ (about $960) at ludwig-reiter.com.
8. The Riva from Il Bisonte.

But let's not forget the classics; Il Bisonte is a 45-year-old Florentine leather company known for bags made from a calfskin that gets richer and deeper the more you use it. Considering their Riva bag's cognac leather is already gorgeous, you can imagine what it will look like in a decade. $2,006 at shop.ilbisonte.com.
Before it's here, it's on the Bloomberg Terminal.
LEARN MORE