DJI's Drone Is Simple Enough for Anyone to Use
DJI Innovations controls about half the consumer market for flying robots
By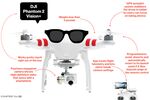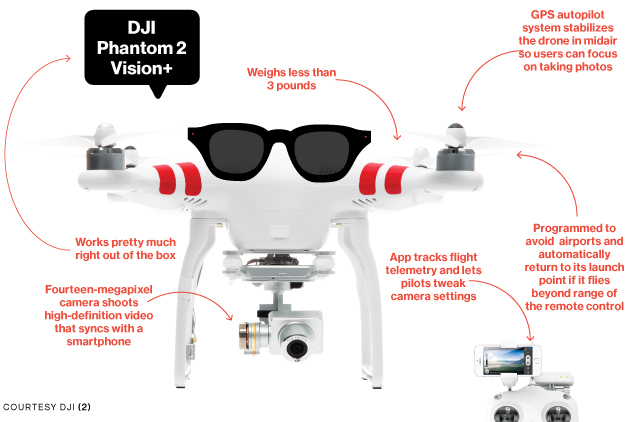 Earlier this year, Brian Tercero, a real estate agent in Santa Fe, N.M., purchased the Phantom 2, a small drone with four propellers that he equipped with a high-resolution camera. He started flying it over his properties and within two weeks had used the photos and video it shot to sell a ranch that had been on the market for three years. "It gives people a visual of something that they can't picture in their heads and allows us to showcase the property from a different angle," Tercero says. Drones will soon be as important for brokers as classified listings and cookies in the foyer, he says. "I believe within five years, sellers and buyers are going to demand this."
Evangelists such as Tercero are propelling the Phantom's maker, DJI Innovations, to an altitude rarely seen by Chinese technology startups. Founded in 2006 in China's booming hardware hub, Shenzhen, DJI has grown from 50 employees to 1,500 in the past three years. It controls about half of what researcher Frost & Sullivan estimates is a $250 million to $300 million global market for small, unmanned aerial vehicles, outpacing rivals such as Parrot in France and Germany's Microdrones. Silicon Valley venture capital firm Sequoia Capital is considering investing, though the financing isn't final, according to a person familiar with the talks who wasn't authorized to discuss them. Such a high-profile infusion of cash would likely put DJI at the center of an ongoing debate about drones, safety, and privacy. "The Phantom 2 Vision is the rough flying equivalent of the Apple II," Sequoia partner and Chairman Michael Moritz wrote in a LinkedIn post in January.
DJI's latest product, the Phantom 2 Vision+, comes with a two-joystick handheld controller that resembles a turbocharged video game accessory. A Wi-Fi transmitter on the controller lets owners connect their smartphone to the drone and watch video streamed live from its camera. Mounted on a three-axis gimbal, the 14-megapixel camera can be rotated by the pilot while the drone hovers in place.
Simplicity may be DJI's biggest selling point. "It's so easy to use, and it's a turnkey system," says Eric Johnson, a professor at the School of Aerospace Engineering at the Georgia Institute of Technology. "A lot of other stuff you have to tune, whereas here, you just take it out of the box."
DJI's profile has risen quickly since the company began selling drones in January 2013. This April it began selling the $1,400 Vision+ on its website and at about 300 electronics retailers, including Amazon.com and Best Buy, in more than two dozen countries. The drone has shortcomings—the lithium ion battery has only enough juice for 25 minutes of flight—yet it's launched a Silicon Valley fad in which Phantom pilots take self-portraits, called dronies, from the air.
Unlike many Chinese tech companies, DJI doesn't manufacture gadgets based on the designs of an overseas partner and isn't copying someone else's products. The company was founded by Frank Wang, 34, a remote-control helicopter enthusiast who grew up in Hangzhou, China, and dreamed of making model aircraft superior to those of his youth. He owned the kind of copter that was "hard to control and easy to crash," says Wang, DJI's chief executive officer. "When you crashed it, it would take months to find the right parts so it could take off again."
Wang graduated in 2006 from the Hong Kong University of Science and Technology with an electrical engineering degree. For his senior project, he and several classmates tried to build a durable, stable model helicopter system; just before their presentation to professors, it crashed. Wang's grades weren't good enough for a U.S. graduate school, he says, so he continued his studies in Hong Kong and tried to turn the helicopter project into a business. For DJI's first few years, its handful of employees worked from a tiny Shenzhen apartment selling controllers to drone makers and hawking them on helicopter enthusiast forums online. To simplify the vehicles and expand their market beyond hobbyists, the company gradually moved into making drones on its own.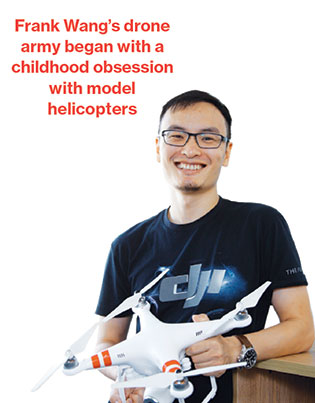 Early versions of the Phantom were marketed to hobbyists who retrofitted them with cameras made by U.S.-based GoPro. Wang didn't want customers to have to find and install separate components, so DJI put its own cameras in its newest models. The Vision+ doesn't require any tools to attach its propellers, and the vehicle sends frequent low-battery warnings to a pilot's smartphone to help avoid disastrous high-altitude plummets. DJI "is in the first wave of 21st century Chinese companies that we are all going to be dealing with," says Chris Anderson, the former editor of Wired and now CEO of 3D Robotics, which makes a rival line of drones. "They are executing flawlessly."
Wang has the mien of a geeky engineer, not a budding tech mogul. He gets his own breakfast from a McDonald's across the street from DJI's new office, which occupies 11 floors in a building in Shenzhen's High-tech Industrial Park district, near the headquarters of Internet giant Tencent Holdings. Wang says Steve Jobs is his idol, but visibly shudders at the prospect of managing thousands of employees, saying it's something he's not naturally good at.
DJI's biggest challenge may be regulatory. While many countries have established license procedures for commercial drone operators, in the U.S., the Federal Aviation Administration and more than a dozen states are still considering rules to further regulate the use of drones. For now, commercial use remains largely illegal, although rarely punished. "The FAA's main concern with unmanned aircraft operations is ensuring the safety of other aircraft and of people and property on the ground," says spokesman Les Dorr, adding that the agency's final rule on small drones should be issued between 2016 and 2019. Drone owners already are required to keep their aircraft out of commercial airspace unless approved to operate there, a stipulation that some apparently ignore. Pilots of a US Airways regional jet complained in March that they nearly collided with a mysterious camouflaged drone over the Florida panhandle. DJI says its GPS-equipped drones are programmed to avoid no-fly zones, including regions around nearby airports, and that when the Phantom loses its wireless connection to a pilot's smartphone, it automatically returns to its launch point.
Wang says "new technology always causes public concerns" and setting standards will take time. While the FAA deliberates, the market for small personal drones is growing by about 20 percent a year, Frost & Sullivan estimates. The market has expanded beyond hobbyists, says Wang, to professionals such as Tercero, farmers who need to survey crops, and Hollywood cinematographers looking for cheaper alternatives to helicopter or crane shots; in December, two episodes of Homeland included footage from the Phantom 2 Vision. Although anticollision technology isn't advanced enough yet for Amazon's vision of delivery drones, "it's going to be realistic sooner or later," Wang says. "When drones can do that kind of thing, it will change the world."
Before it's here, it's on the Bloomberg Terminal.
LEARN MORE