Chipotle Loses a Compensation Vote. Are Its Co-CEOs Too Costly?
by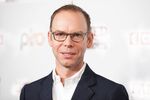 Chipotle Mexican Grill suffered an unusual setback at its annual shareholder meeting on Thursday when 77 percent of shareholders voted against the company's executive pay plan. The result will prompt a full review of how much Chipotle pays its top executives and how its compensation packages are structured.
Michael Pryce-Jones, senior governance policy analyst at CtW Investment Group, says Chipotle needs to align compensation with performance better. The company may be a star in the fast-food industry today, but it likely won't grow at this rate in five to 10 years.
He said Chipotle might even need to reevaluate its co-CEO structure, which contributes to the expensive management team. "With compensation for just one half of our co-CEO team consistently around five times the peer median for companies run by a single CEO, it is difficult to believe these compensation levels are necessary for retaining key personnel," notes a letter (pdf) sent by CtW last month that recommended voting against the pay package. The firm advises pension funds sponsored by unions affiliated with Change to Win.
Last year, Chipotle co-CEO Steve Ells's total compensation was $25.1 million, while his counterpart, co-CEO Monty Moran, received $24.4 million, according to a filing with the Securities and Exchange Commission. The company's chief financial officer took in $9.9 million, and the chief marketing officer got $5.9 million.
CtW's letter pointed out that Chipotle's top five executives earned $67.3 million last year, 42 percent more than Coca-Cola's executive team and nearly equal to the much larger company General Electric. It also noted Chipotle has one of the worst pay-for-performance profiles in the Russell 3000.
Thursday's vote is nonbinding, meaning that Chipotle's board and compensation committee can proceed with the compensation. Still, Chipotle responded in a statement: "We take this very seriously. It has always been, and continues to be, a top priority that our compensation programs are driving the creation of shareholder value."
Before it's here, it's on the Bloomberg Terminal.
LEARN MORE