Against the Odds, a U.K. Startup Revives New York-London All-Business Flights
By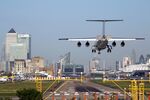 In the long history of airline entrepreneurs, few have set themselves up with the dual challenges Adam Scott faces. Two years from now, Scott's Odyssey Airlines aims to launch all-business-class flights between London and New York—a proposition with a dismal record of success—and to do so with a brand new airplane that has yet to see commercial service. That's a bit of a double whammy when approaching potential investors. "That has been a challenge, I'm not going to lie to you," says Scott, Odyssey's founder and chief executive officer. "It's almost like a double prejudice for some people."
Understandably so. Since 2001 at least three airlines have provided all-business-class service between the financial capitals, and the track record is not promising. MAXjet filed for bankruptcy protection in 2007 after four years of flying business customers and wealthy leisure travelers from Stansted Airport, northeast of London, to New York, Washington, Las Vegas, and Los Angeles. Eos Airlines, which flew 48-seat Boeing 757s between New York's JFK International Airport and Stansted, folded in the spring of 2008. A third airline, SilverJet, offered a business-class service on Boeing 767s from Luton Airport, north of London, to Newark, N.J., and to Dubai; it closed in June 2008 after 18 months of service.
Odyssey's premise is that business travelers have endured an abundance of airport hassles that rob them of their most critical asset—time—and are keen to find a quicker, simpler experience. Small airports, a small aircraft, and a consistent onboard experience are keys to minimizing the stress and frustration. Thus, Odyssey plans to fly from London's City Airport, near the financial district; in New York, Odyssey would prefer to avoid JFK and Newark but won't say which of the tri-state area's smaller airfields are potential destinations. The company also says it isn't yet ready to discuss fares or onboard products but that it won't cost much more or less than current fares.
Odyssey will rely on the new CSeries aircraft from Bombardier, which touts a 20 percent fuel-burn advantage over existing models of its size. Its range, size, and operating economics make it the only feasible aircraft to fit Odyssey's business model, Scott says. The company has ordered 10 CSeries planes, which seat as many 149 passengers, and has taken options for five more. Odyssey plans to fly the jet with only 40 seats, lowering its weight and thereby increasing its range, which makes London-Chicago flights possible. The CSeries has been a slow seller for Bombardier, with only 203 firm orders, but has been progressing through flight testing. The manufacturer has suffered delays and pushed the first delivery to the second half of 2015.
Scott, a former Goldman Sachs associate in London and Moscow, says he knows what he's up against, perhaps better than anyone—he worked on some financing issues for SilverJet at one point. Scott argues that none of the failed all-business-class airlines' experiences are comparable to the current competitive environment, in which consolidation and joint ventures have caused fares to rise. And none, he says, had an airplane with the kind of operating efficiencies that Boeing, Airbus, and Bombardier have designed in recent years around new engines and carbon composites.
Scott's not the only one who thinks this could be promising: A second new entrant, Dreamjet, plans to begin business-class flights this summer from Paris to New York, mirroring a service British Airways' OpenSkies offers now.
Odyssey says it has raised £5 million ($8.4 million) and aims to secure about £59 million more next year. Venture capitalist Jon Moulton is among the early investors; the airline has also launched a crowdfunding effort in Europe and plans to do the same in North America. Scott says Odyssey's service will be akin to a private jet experience, with high-speed Internet allowing passengers to work en route.
"We are not naive. This is not a 100-aircraft business—it's going to be focused, it's going to be small," Scott says. "We're going to be a minnow." Which, given the size of the global airlines that dominate the trans-Atlantic routes, may be Odyssey's biggest advantage: Whales don't eat minnows.
Before it's here, it's on the Bloomberg Terminal.
LEARN MORE