Yale's Sherrod Leaves Basketball Team to Sing With Whiffenpoofs
Eben Novy-Williams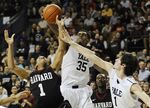 Brandon Sherrod, a three-year member of the Yale University basketball team, is leaving the Bulldogs to perform with the school's Whiffenpoofs a cappella group.
The 6-foot-6 forward, who averaged 6.8 points and 4.3 rebounds per game last year, was one of 14 male juniors chosen for the world's oldest collegiate a cappella group. Sherrod, 21, is listed on the Whiffenpoofs' website as Brandon "Que Sherrod" Sherrod.
He will take next year off from school as he performs around the world, and intends to rejoin the basketball team the following year for his final season of eligibility, Yale athletics spokesman Tim Bennett said today in an e-mail.
Sherrod is from Bridgeport, Connecticut, 20 miles west of Yale's New Haven campus. He previously sang with the Living Water, the school's Christian a cappella group.
The Whiffenpoofs were formed in 1909 and named after a mythical dragonfish. The group's tour stops this summer include Morocco, Italy, Tanzania, India, Japan, Australia and Norway. Composer Cole Porter and former U.S. Senator Prescott Bush, father of former President George H.W. Bush, are among the group's alumni.
Bennett said that he was not aware of another Yale athlete who left his team to join the group. Sherrod, a political science major, did not immediately respond to an e-mail seeking comment.
The Bulldogs (19-14) finished second in the Ivy League this season and advanced to the CollegeInsider.com Tournament championship game, where they lost to Murray State. Yale hasn't played in the National Collegiate Athletic Association tournament since 1962.
Before it's here, it's on the Bloomberg Terminal.
LEARN MORE