To Catch PlayStation 4, Xbox One Gets Cheaper and Drops Kinect
by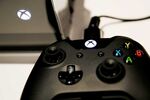 After Microsoft announced the $499 price for the new Xbox One to gasps, followed by shocked silence, from a live audience at E3 last June, the company has tried its best to persuade gamers that the price would prove a bargain. They would want to shell out $100 more than the price of Sony's rival PlayStation 4 to have Microsoft's Kinect motion and voice sensor, which accounts for the steeper price.
Now Microsoft is reversing course six months after the debut of the Xbox One, conceding that Sony's lead by about 2 million units in the next-generation console race has something to do with the $100 difference. Even exclusive rights to Titanfall, the hottest title in a tepid game market, hasn't been enough. The company said on Tuesday it would start selling Xbox One without the Kinect for $399.
Microsoft had argued for its aggressive price by insisting that game developers would want to know every new Xbox had a Kinect before they would build apps and games using the motion-sensing technology. But an even bigger factor for developers, and for Microsoft, is making sure the Xbox One sells at all.
"We balanced the two pulling factors," says Xbox's Yusuf Mehdi, who is vice president for strategy and marketing. "The one of Kinect everywhere and the other of, 'Hey, can we bring more people to use the system?'" Some customers, he admits, were just not willing to shell out $499.
The company is also lifting another irritant to customers, the requirement that they pay an additional tariff in the form of an Xbox Live Gold subscription to use apps they already pay for, such as Netflix and HBO GO.
Microsoft's aim with the Xbox One was to target not just gamers but also the broader entertainment market, taking on Apple, Google, and Facebook in the process. As it turned out, however, just conquering Sony has been enough of a challenge. Sony has sold more than 7 million new consoles to Microsoft's more than 5 million, and some of those new Xbox Ones are still sitting on store shelves.
Microsoft also bet big that the additional entertainment options would persuade customers to pony up more than the typical console price. The idea was that initial buyers for the new Xbox would include entertainment fans, not just the usual hard-core gamers who buy consoles in their first year.
Those gambles haven't paid off, says Brian Blau, an analyst at Gartner, and Microsoft hasn't done enough to line up either compelling entertainment or enough solid games. With the E3 show approaching again, it's time for Microsoft to get back to its knitting and focus on gamers, he says. It's early, and there's still everything to play for.
"If they come up with a strong lineup vs. PlayStation 4 at E3, that could revive the gamer community's interest," Blau says. "We haven't really seen games take full advantage of the hardware yet for either console."
Before it's here, it's on the Bloomberg Terminal.
LEARN MORE