The 2022 FIFA World Cup Could Be Deadly for Qatar's Migrant Workers
By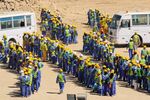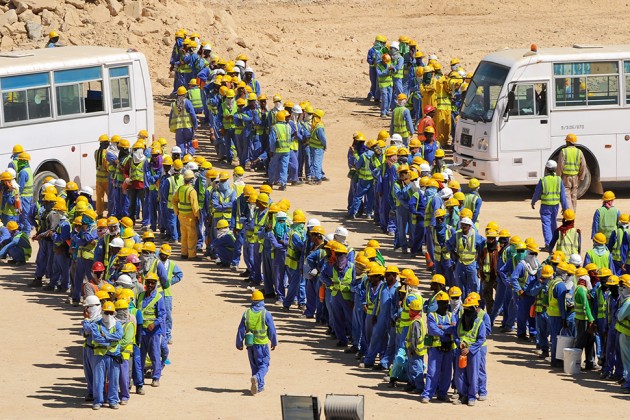 With the 2014 World Cup in Brazil now less than 30 days away, eight workers have died building stadiums for the event. Even one death is a steep price for any sporting event, and this is a black eye for Brazil, which is behind schedule in its preparation. There is also some precedent: Two workers died during construction for the 2010 World Cup in South Africa. Yet the losses in Brazil and South Africa look minuscule compared with the crisis mounting in Qatar, which is scheduled to host the World Cup in the summer of 2022, despite extremely hot weather. Deaths there could number in the thousands.
In a new segment from ESPN's investigative wing, E:60, reporter Jeremy Schaap travels to Qatar to see the housing where Qatar's immigrant workers live. The conditions are filthy, cramped, and dangerous. Even without the pressure of the spotlight of the World Cup, hundreds of young men die every year from accidents, suicides, and heart attacks—their bodies shipped back to widows and orphaned children in Nepal, India, Pakistan, the Philippines, and other countries that send workers to the tiny emirate.

Qatar employs a Kafala labor system, which effectively controls the lives of its foreign workers, who make up the majority of the population. (Only about 250,000 of Qatar's 2 million residents are citizens.) Workers take out loans from "sponsor" companies to cover the cost of travel and housing. These sponsors then control everything about the workers' lives in Qatar, including the right to leave. As it stands, Kafala will supply the labor force to build either eight or 12 stadiums for the 2022 World Cup.
The Qatar organizing committee reported yesterday that no workers had died building World Cup venues, mostly because construction has not yet begun in earnest. According to the E:60 segment, 184 Nepali workers in Qatar have died in the past year and 680 in the past five years. Currently, 400,000 Nepali workers are in the country. India reports 450 deaths from its emigrants to Qatar in 2012 and 2013. Sharan Burrow, the general secretary of the International Trade Union Confederation (ITUC), tells Schaap that under the current system more than 4,000 workers will die during World Cup construction, a total she calls "insanely criminal."
Under pressure from ITUC and other human rights organizations, Qatar announced today that it will amend its labor laws and remove employers' control over their employees' exits from the country. It remains to be seen whether the new measures will bring significant change. Burrow calls previous reforms "sham provisions" that rely on self-audits by employers. Nothing short of abolishing Kafala will do. And Burrow contends that Qatar would do it if FIFA President Sepp Blatter made it the price of hosting the World Cup.
(
Corrects the number of Qatar citizens in the third paragraph.
)
Before it's here, it's on the Bloomberg Terminal.
LEARN MORE