SodaStream Sales Lose Fizz. Is It Trouble for Coke and Keurig?
by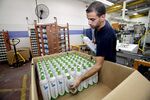 After a stretch of strong sales last year, do-it-yourself soda maker SodaStream reported disappointing first quarter results in its key U.S. market. These earnings come just after Coca-Cola announced it will boost its stake in Keurig Green Mountain to 16 percent while the two companies develop a competing cold-drinks system that's set to make its debut in 2015.
SodaStream's troubles might not be good news for Coke and Keurig. The sharp decline in U.S. sales, where SodaStream derives about 30 percent of its revenue, suggests that consumer demand for at-home soda machines might not be as strong as hoped. Keurig Green Mountain declined to comment.
It's not an interpretation that Yonah Lloyd, SodaStream's chief corporate development and communications officer, is willing to accept: "The U.S. results do not reflect a limit for demand," he said on Wednesday. Lloyd points to continued growth of CO2 refill units used in the soda machines, which shows that StodaStream owners use it regularly. Sales of the refills spiked 27 percent to a record 1.4 million. About three-fourths of users in the U.S. use it three to four times a week, according to SodaStream.
SodaStream's U.S. sales for its machines dropped 69 percent, to 80,000 units, and sales of flavor mixtures marketed by SodaStream also declined 20 percent. Daniel Birnbaum, chief executive officer, attributed the fall to weak holiday sales, which left retailers with excess inventory in the first quarter. SodaStream's Super Bowl ads featuring Scarlett Johansson, which represented a large part of its marketing budget, also appear to have been less effective than the company had hoped.
Global sales edged up 0.5 percent in the three-month period, thanks to stronger sales in Europe and Asia. SodaStream expects full-year revenue to increase 15 percent from 2013′s $562.7 million.
"Our challenge is to improve the marketing execution to drive consumer interest," Lloyd says. To reverse the decline in the U.S., the company will sharpen its marketing to focus on health and wellness—while cutting back its messaging around environment and convenience. SodaStream also plans to increase its retail presence, most notably through a three-month promotion at Wal-Mart.
Before it's here, it's on the Bloomberg Terminal.
LEARN MORE