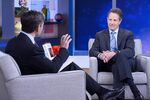 Timothy Geithner is taking a victory lap, promoting his book, Stress Test: Reflections on Financial Crises. The memoir describes his tenure as Treasury Secretary in the aftermath of the great Wall Street collapse of 2008.
Now president of Warburg Pincus, a private-equity firm in New York, Geithner, 52, has received mostly respectful reviews (New York Times here), the main theme of which my colleagues at Bloomberg View expressed thusly: "Geithner, acting in concert with Federal Reserve Chairman Ben Bernanke, managed an impossibly difficult situation pretty well."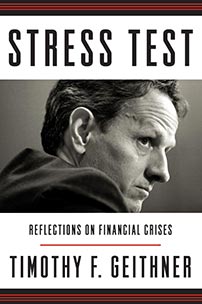 Standard & Poor's, however, seems not to have received the memo that this is a moment of collective hat-tipping toward Geithner. Defending itself against a $5 billion Justice Department fraud action that accuses the rating agency of helping cause the Wall Street meltdown, S&P insists that the civil suit is nothing more than an act of revenge motivated in part by … Timothy Geithner.
On May 13, S&P won a potentially important procedural round in its legal defense as a federal judge in California ordered Geithner to comply with the rating agency's demand for documents it claims will show that the U.S. filed suit in retaliation for an S&P downgrade of government debt in August 2011. Bloomberg News provides the key background:
Harold W. McGraw III, chairman of S&P parent McGraw Hill Financial Inc. (MHFI), said in a court statement that Geithner called him days after S&P downgraded the U.S. debt in August 2011 and told him that the company would be held accountable for it. McGraw said Geithner told him there would be a "response" for the downgrade, which the government said was based on an error. Geithner is the highest former government official S&P has pursued for information to support its allegations. S&P, the only credit rating company sued by the Justice Department for allegedly giving fraudulent ratings to mortgage-backed securities, has said it was singled out because of the downgrade.
The Justice Department and Geithner have denied there is a connection between the downgrade and the lawsuit filed last year. The government has said it may seek as much as $5 billion in civil penalties from S&P for losses to federally insured financial institutions that relied on its ratings for mortgage-backed securities and collateralized-debt obligations, or CDOs, that lost value after the housing market collapsed. The call to McGraw took place right after Geithner had met with President Barack Obama, S&P said in February.
The May 13 order came from U.S. District Judge David Carter, who is presiding over the government's suit against S&P. Carter denied Geithner's request to set aside an S&P subpoena, as well as a similar request by the Federal Reserve Bank of New York. The judge said S&P had provided sufficient evidence of an "improper purpose" to warrant further disclosure and investigation. Jenni LeCompte, a Geithner spokeswoman, declined to comment, referring to an earlier Geithner denial that he threatened S&P or prompted any retaliatory action.
There's much more to come in the U.S. v. S&P litigation, and Geithner could emerge blameless. One imagines, though, that this is not the breaking news event that his publisher hoped would accompany the release of Stress Test.
Before it's here, it's on the Bloomberg Terminal.
LEARN MORE