Russia Still Facing Hostile Bond Market After Breaking Drought
Vladimir Kuznetsov and Natasha Doff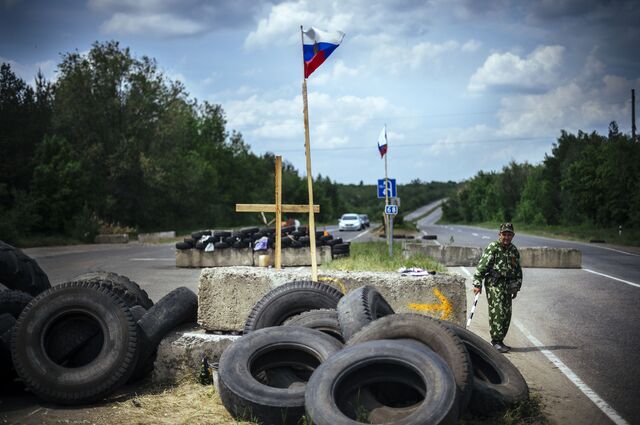 Russia's return to the bond market after a six-week absence is unlikely to herald large-scale issuance even as the Ukraine crisis eases.
"Placements will likely remain limited in size," Vladimir Osakovskiy, chief economist for Russia and the Commonwealth of Independent States at Bank of America Corp. in Moscow, said by e-mail yesterday. "As long as the ruble shows at least some stability, we think that there will be demand for ruble debt."
Demand for the 10 billion rubles ($288 million) of August 2023 bonds offered yesterday was the most in three months in the first sale since a string of auctions were canceled amid increasing tension in Ukraine. It came a day after Russia said it will stay out of international bond markets this year and "seriously" trim local-currency issuance, as the ruble's slide in the first quarter contributed to a budget surplus equal to 0.7 percent of gross domestic product.
Russia has scaled back borrowings since President Vladimir Putin's incursion into Crimea March 1 that led to the Black Sea peninsula's annexation from Ukraine and triggered a standoff with the U.S. and its European allies. The ruble is the best performer against the dollar in emerging markets this month after a 7.8 percent drop in the first four months of the year.
The nation has so far raised about 13 percent of the local OFZ ruble debt planned for the open market in the first half after yields soared to records. The ministry offered 22 billion rubles of debt, on average, at auctions in January and February, and an average of 28 billion rubles in the first five months of 2013, its data show.
Bond Bids
The bond attracted bids valued at 2.3 times what was offered, up from an average of 1.8 for 2023 debt in the second half of 2013, according to data compiled by Bloomberg.
"Lower borrowing costs through the reduction of supply appear to be the main policy goal for the Finance Ministry, while lack of supply pressures is the key fundamental support factor for the ruble," Osakovskiy said.
Russia sells debt on foreign markets only to create benchmarks for corporate borrowers, Konstantin Vyshkovsky, head of the Finance Ministry's debt department, said in October. The ministry had budgeted $7 billion in Eurobond placements for this year, the same amount as 2013.
Putin's call on May 7 for Ukrainian separatists to delay referendums on independence spurred a rally by easing concern Russia would annex more of its neighbor after Crimea's secession.
'Good Window'
The ruble gained 0.1 percent to 40.4747 against the central bank's target dollar-euro basket by 4:47 p.m. in Moscow, the strongest level on a closing basis since Feb. 12. The yield on ruble-denominated debt due in February 2027 fell for an eighth day, declining three basis points to 8.97 percent.
"It's a good window of opportunity for the Ministry of Finance to come back to the market and it has played out well," Ivan Tchakarov, the Moscow-based chief economist for Russia at Citigroup Inc., said by phone yesterday. "I wouldn't jump to conclusions. We still have two weeks to go until the elections in Ukraine, so plenty of stuff can go wrong and I wouldn't say that things are back to normal."
The Finance Ministry sold the 2023 bonds at an average yield of 8.94 percent, one basis point higher than at the last sale of the notes on April 2.
Russia will not borrow abroad this year and will "seriously" cut its domestic market debt sales, relying more on revenue from oil and gas, Finance Minister Anton Siluanov said May 13.
The 10 billion-ruble sale took the ministry's total fundraising in the open market to 55 billion rubles this year, compared with a target to offer 275 billion in the first quarter and 150 billion rubles in the three months ending June 30. The government separately raised 100 billion rubles of notes directly from pension funds and banks in March, sidestepping the bond market after the failed auctions.
Before it's here, it's on the Bloomberg Terminal.
LEARN MORE