Nescafé's New Lid Has a Built-In Alarm Clock
By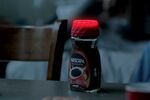 For the caffeine-addicted who crave coffee from the second they open their eyes, Nescafé has just the thing: a lid with a built-in alarm clock.
The alarm-coffee duo is part of a brand refresh by Publicis Mexico, a creative agency in Mexico City, and the L.A.-based design studio NOTLabs. At a time when even fast-food giants such as Burger King are trying to ride coffee's "third wave," Nestle's Nescafé might be struggling to compete for customers whose coffee arsenal includes pour-over carafes and single-serve espresso makers at home. With its limited-edition cap, the 84-year-old company taps into today's maker ethos and the innovative potential of 3D printing in the hopes of inspiring a younger generation to open a jar of instant.
The faceted red exteriors of the caps were printed in nylon by Shapeways, while the alarm parts were produced in the NOTLabs office with a Makerbot desktop printer. When the alarm goes off, the cap plays one of seven sounds and pulses with a glow like a beacon of wakefulness.
As a creative idea for selling more Nescafé, the cap is good one. But it also gets us dreaming about a smartphone alarm app that would seamlessly synch with our coffee machines to start up when the ringer goes off, even delay brewing when the snooze button is pressed. Now that it has mastered 3D printing, perhaps Nescafé should start exploring the Internet of Things.
Before it's here, it's on the Bloomberg Terminal.
LEARN MORE