Child Workers in Tobacco Fields Sickened by Nicotine and Pesticides
By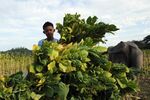 Last year researchers for the advocacy group Human Rights Watch fanned out across the South to find children working in tobacco fields and to figure out what impact it was having on their health.
It wasn't hard to track them down.
"We found kids working in 40 counties across four states," said Jo Becker, children's rights advocate at the group. "In some places, when we went into fields, we would see whole crews of children."
Worse yet, almost three-quarters of the children reported that exposure to nicotine and pesticides was making them sick, with vomiting, headaches, skin rashes, and other illnesses. Many of the symptoms were consistent with acute poisoning from nicotine, so-called Green Tobacco Sickness, a health risk specific to prolonged exposure to tobacco plants.
The report, released Wednesday, is intended to pressure tobacco companies to crack down on child labor in their supply chain and Congress to pass tougher laws to prevent children from working in hazardous agricultural jobs, including the handling of tobacco leaves, Becker said.
"As their school year ends, children are heading into the tobacco fields, where they can't avoid being exposed to dangerous nicotine without smoking a single cigarette," Margaret Wirth, co-author of the report, said in a statement. "It's no surprise the children exposed to poisons in the tobacco fields are getting sick."
The report is based on interviews with 141 child tobacco workers, ages 7 to 17, some of whom logged 50 or 60 hours per week. Most of them were the sons and daughters of Hispanic immigrants, children who attend school full time and work after school, on weekends, or during the summer months to help their families.
Although children are prohibited from buying cigarettes and other tobacco products, it is legal for them to work in agricultural jobs with some caveats. Children under 16 are prohibited from working in hazardous jobs or during school hours, and those under 14 need parental consent. (Children under 12 can work only on small farms).
About half of the 955,400 children living on farms worked for the family business in 2012, and another 259,000 nonresident youth worked in agriculture.
The labor tends to be more dangerous than other types of jobs. Youths working in agriculture are four times more likely to suffer a work-related death than young people employed in other fields.
In addition, some of the children interviewed said that pesticides were sometimes sprayed nearby, drifting onto the children as they worked and causing burning eyes, itchy skin, shortness of breath, and other symptoms. The report notes that some pesticides used on tobacco can cause long-term neurological damage and other health problems.
Human Rights Watch said nine of 10 tobacco companies responded to their inquiries and expressed concern about child labor in their supply chain, but the advocacy group deemed their responses inadequate. China National Tobacco did not respond. Philip Morris International had the most protective set of policies, the report said.
"This report uncovers serious child labor abuses that should not occur on any farm, anywhere," André Calantzopoulos, chief executive of Philip Morris International, said in a statement. "More work remains to be done to eliminate child and other labor abuses in tobacco growing.'
Philip Morris's policy dictates that for its suppliers, the minimum age for workers is 15 or the minimum age provided by that country's laws. The company prohibits children under age 18 from performing any kind of hazardous work. On family farms, a child can help only if the work is light and the child is older than 13 or above the minimum age for light work as defined by the country's laws.
When PMI implemented its child labor provisions into contracts with U.S. growers in 2012, the company ended up severing ties with 20 suppliers who couldn't comply.
An official with the Burley Tobacco Growers Cooperative Association in Lexington, Ky., said he believed it was uncommon for children to work in tobacco farming.
"We don't want to put anybody in harm's way, particularly children," said Steve Pratt, general manager of the association. While his group has discussed the issue, he said it doesn't yet have a formal policy on youth labor. But he added that the association expects its members to comply with state and federal laws.
Human Rights Watch argues that tobacco is particularly hazardous to children. Tobacco workers can absorb nicotine through their skin by working with tobacco leaves, particularly when the plants are wet, the report says. Research on nonsmoking tobacco workers has found that they have similar levels of nicotine in their bodies as smokers.
"There are 12-year-olds that never smoke a cigarette, but it's like they have a regular habit," Becker said.
Before it's here, it's on the Bloomberg Terminal.
LEARN MORE