pursuits
Can Kate Spade Skip the Growing Pains?
By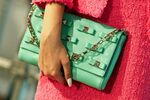 Kate Spade, a small but growing brand, is bent on making it in the big time. With a suitcase full of $400 dresses and handbags and menswear sibling Jack Spade in tow, the company is taking the world's fashion centers by storm.
In the most recent quarter, sales of Kate Spade surged 54 percent, to $217 million, in part because the company opened a net of 54 new stores, bringing its tally to 225. And with new flagships in Houston and Tokyo, its total square footage jumped 42 percent.
Kate Spade is what's left of Fifth & Pacific, an apparel conglomerate that sold off Juicy Couture in the fall and Lucky Brand jeans in December. The company is going all in on its fresh-faced star, changing both its name and its trading ticker.
At the moment, it doesn't seem as if anything can tarnish Kate Spade. The brand shrugged off the harsh winter that the rest of U.S. retailers have griped about at length. It has also bucked a heavily discounting by rivals—staying clear of sales and boosting its profit margins.
"Such positive commentary in the face of a very difficult retail environment demonstrates the strength and momentum of the business today," analysts at Sterne Agee wrote in a recent report. Their advice: "What's not to like? Stay long, be long."
Kate Spade is still relatively tiny. In their most recent quarters, Coach and Michael Kors each had roughly five times as much revenue. Lululemon is about twice as big in sales. Sterne Agee estimates that Kate Spade has only about a 4 percent market share in the U.S.
But growing pains may lurk. Kate Spade plans to open 80 more stores this year, and if it hopes to remain a fashion darling, the company has a tricky to-do list for the next few quarters. It will have to bone up on media buying in Europe and real estate in Asia in addition to keeping up with fashion trends all over the world. It will also have to fine-tune pricing strategies in what has become a crowded and complicated U.S. market for well-heeled women and men with a taste for $600 briefcases. All the while, it needs to build up its supply chain without losing any of its efficiency.
And like everyone else in the retail apparel game these days, Kate Spade is also promising omnichannel service—in-store orders that ship to customers and online orders that can be picked up in person. Even the best and the biggest players are struggling to do that well.
Before it's here, it's on the Bloomberg Terminal.
LEARN MORE