Airlines Persuade More Travelers to Find Satisfaction in Baggage Fees
By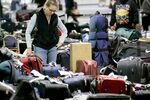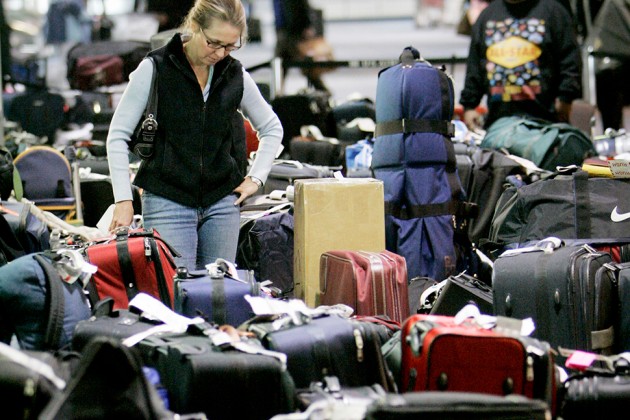 Much like the accommodation one makes for an adored pair of shoes that hurt, travelers appear to be slowly finding peace with paying for checked baggage and the other fees that have become a critical part of the airline business model.
Traveler satisfaction for North American airlines increased to a record high of 712 on a 1,000-point scale devised by J.D. Power, which released its 2014 airline satisfaction study on Tuesday. The increase from 695 a year earlier comes even as higher fares and fees become entrenched throughout the consolidated industry. "It isn't that passengers are satisfied with fees; it's that they are simply less dissatisfied because they realize that fees have become a way of life with air travel," says Rick Garlick, head of J.D. Power's travel and hospitality practice.

Two discount carriers, JetBlue Airways and Southwest, led the satisfaction survey at 789 and 778, respectively. JetBlue allows one free checked bag and Southwest permits two. The result was the 10th year that JetBlue has led J.D. Power's rankings.
Among traditional network airlines, Alaska Airlines finished highest (737), followed by Delta (693). US Airways, which merged with American Airlines in December to form the world's largest airline, finished last but also posted the most improvement in its score. (Virgin America has scored high in other such passenger surveys but does not qualify for the J.D. Power ranking because the airline doesn't yet have $1 billion in annual passenger revenue or serve 40 destinations.)
J.D. Power says that airline satisfaction among people who paid to check their bags has increased steadily since 2010. Now 44 percent of travelers say checked-bag fees are reasonable, up from 37 percent in 2013. Most airlines charge about $25 to check a first bag, and revenue from bags tallied more than $3.3 billion last year for the 16 largest U.S. carriers. "The things that impact customer satisfaction are the very things that drive profitability for the airline industry," Garlick says.
The study measures passenger satisfaction in seven areas: cost and fees; in-flight services; boarding/deplaning/baggage issues; flight crew; aircraft; the check-in process; and reservations. J.D. Power, a unit of McGraw Hill Financial, queried 11,370 passengers over the 11 months ended March. In a related ranking of airlines' frequent flier programs, Alaska Airlines finished first, followed by Southwest's Rapid Rewards and JetBlue's True Blue programs.
Before it's here, it's on the Bloomberg Terminal.
LEARN MORE