Venezuelan Opposition Suspends Talks Amid Government Crackdown
Anatoly Kurmanaev and Corina Pons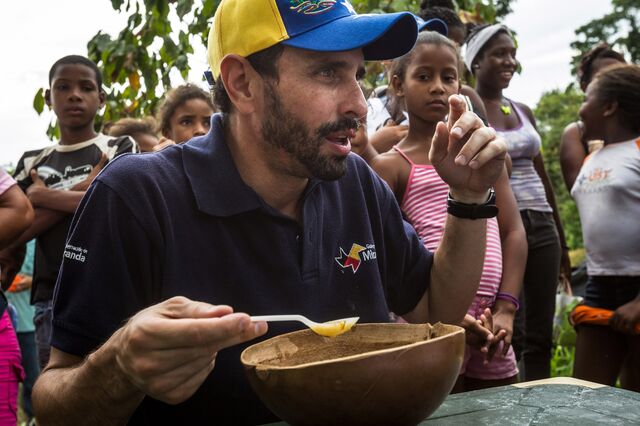 Venezuela's opposition has suspended talks to end nationwide demonstrations that have left 42 dead after a government crackdown on protest camps in Caracas.
"We will return to meetings with the government if they show interest," Ramon Guillermo Aveledo, general secretary of the opposition alliance Democratic Unity Roundtable, known as MUD, said at a news conference in Caracas today. "The government is only increasing the repression. They have to decide whether they want to win war or peace."
National guardsmen on May 8 arrested 243 students who had been sleeping in tented camps for the past month, according to the Interior Ministry. The raids reignited demonstrations in the capital, where protesters threw up new street barricades and clashes left one policeman dead.
The opposition alliance and the government held two sessions of talks last month to end the protests that started Feb. 12 over rising inflation, mounting shortages and rampant crime. The talks are mediated by the Roman Catholic Church and the foreign ministers of Brazil, Colombia and Ecuador.
"There were paid mercenaries among the protesters we captured in the camps of violence and death," President Nicolas Maduro said May 8 on state television. "Some are mercenaries paid to do evil, others are fools."
The National Guard clashed with rioters last night in the eastern Los Palos Grandes neighborhood of Caracas and shot tear gas into residential buildings.
No Results
Aveledo said MUD will only speak to the mediators until Maduro seriously considers their proposals, which include amnesty for political prisoners.
At least three MUD member parties boycotted the dialog over the jailing of two opposition mayors and the leader of the Popular Will party, Leopoldo Lopez, during the peak of the protests in February and March.
The last session of the talks, scheduled for May 8, was canceled after the foreign ministers asked for more time to discuss both sides' proposals, said Henrique Capriles, an opposition governor of Miranda state who ran as the MUD candidate in the last two presidential elections.
"The talks haven't produced any result up to now," Capriles said in an interview over a chicken stew in Barlovento, Miranda. "With the camp raids the government has shown its problem isn't the barricades, it's the protest itself."
The economy will shrink 1 percent this year, according to the median estimate of 13 economists surveyed by Bloomberg last month, as government slashes imports to preserve foreign reserves. This compares with February forecast of 0.5 percent growth.
Annual inflation in Venezuela, which has the world's largest oil reserves, hit 59 percent in March, with prices rising the most in four months, after the government carried out the biggest devaluation since currency controls were instituted in 2003.
"If the government wants to criminalize the protests, they will have to build many more prisons, because the economic crisis is only getting worse," said Capriles.
Before it's here, it's on the Bloomberg Terminal.
LEARN MORE