The Future of Pay-TV: Squeezing More Cash From Fewer Customers
By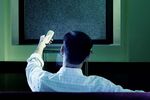 Rare is the satellite or cable-TV subscriber who doesn't grumble over the bill. The monthly hit tends to move in only one direction, and millions of people have concluded that they can ditch pay-TV, if not the Internet service sold by the same companies. The industry has responded with a new tactic: wringing more revenue from customers who stick around.
Here's where revenue per subscriber fee stands now at each provider:

Those numbers, taken from each company's most recent quarterly earnings report, are up across the board from a year ago:
• Cablevision: +6 percent
• Dish: +5 percent
• Comcast: +4.5 percent
• DirecTV: +4.3 percent
• Charter: +3 percent
• Time Warner Cable: +1 percent
These monthly increases speak to the companies' abilities to command higher prices and to market to their customers such services as faster Internet speeds, heftier hard drives, more capabilities on the digital video recorders they lease, and more on-demand movie rentals.
"They're raising prices and they have some price elasticity with the customers they have left," says Richard Tullo, a media analyst with Albert Fried & Co., who likens the industry's rising revenue figures as similar to a trend at newspaper chains: larger subscription income from charging more, amid a fundamental shift to other forms of news consumption that signifies the long-term decline of print news. "It's not a good indicator of health."
Large players such as Comcast—which reversed years of declining video subscribers in late 2013—say that customers are willing to pay more for TV and Internet because new digital platforms are simpler to navigate and more valuable as home entertainment tools. With the proliferation of video services and games for tablets and other mobile devices, consumers want faster Internet speeds to power those gadgets.
Still, it has become clear that most Americans who want cable already have it. There is no large, untapped pool of people unaware that they could have Comedy Central or ESPN. To sustain the revenue growth investors demand, TV and Internet sellers must continue finding new options and services to entice subscribers to spend more.
In one example, Verizon Communications last month introduced the mother of all DVRs: a premium version of its FiOS Quantum television service allowing people to record as many as a dozen shows simultaneously and store 200 hours of high-definition programs.
Care to upgrade? Verizon charges a $24.99 fee—$20 more per month than the company's old box for multi-room service. An "enhanced" version of the DVR, with 100 hours storage, costs just an additional $10. "While the upgrading is quick and easy," the company says, "existing and new FiOS TV customers can elect to have a Verizon technician install the service."
The trend is clear: People who love TV really love TV—and the companies that provide it are willing to see how the ardor translates to higher prices.
Before it's here, it's on the Bloomberg Terminal.
LEARN MORE