The Trouble With Whiskey-Bred Pigs
by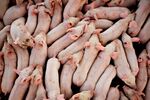 The creators of Templeton Rye in Iowa are a shrewd bunch, and they have gotten a tremendous amount of publicity for their plan to breed pigs that taste like whiskey.
The distillery is reviewing "inquiries," as it puts it, from people who are interested in the 25 red Duroc pigs that have been dining on "spent grain by-product from the production of Templeton Rye whiskey." This means the animals are being treated to top-shelf stuff. Templeton Rye, which the distillery describes as "Prohibition-era whiskey," sells for about $39 a bottle. That's more than twice what you would pay for Beam's Old Overholt, which retails for about $17.
The makers of Templeton boast on their website that the pigs' diet was prepared by Mark Bertram, who holds a Ph.D. in swine nutrition from Iowa State University: "Most importantly, Dr. Bertram is a big fan of Templeton Rye!" One of the distillery's co-founders, Keith Kerkoff, says he and his partners have gotten many inquiries about these specially bred creatures. "I don't think we're going to have any problem getting rid of the 25 pigs," he told Iowa's WQAD. He added that the unorthodox Templeton Rye Pork Heritage Project is true to the mother brand's naughty Prohibition-era history.
It's also an inspired bit of marketing, which is Templeton's signature. In American Whiskey Bourbon & Rye, author Clay Risen calls the distillery out on this:
"[Templeton] claims to be a small-batch, authentic Prohibition-era rye whiskey, a favorite of Al Capone's and renowned as 'The good Stuff.' But nothing of this holds up to much scrutiny. It's not made in 'small batches' but as the sprawling MGP distillery—which is not in Templeton, Iowa, but rather Lawrenceburg, Ind. Nor is there much evidence that the recipe is in fact 'Prohibition-era.' It is almost completely rye, which is robust and favorable and unlike more corn-heavy rye mash bills for the 1920s. Whether a whisky called 'Templeton' was ever enjoyed by Mr. Capone or not is also beside the point. This is marketing, not heritage.'"
Risen likes Templeton Rye—he gives it two stars, meaning he thinks it's good. Then again, it's the same rating Risen gives Old Overholt. Beam doesn't breed pigs. But nobody even accused it of being inauthentic.
Before it's here, it's on the Bloomberg Terminal.
LEARN MORE