SBA Chief Maria Contreras-Sweet On Her First Month in Office
by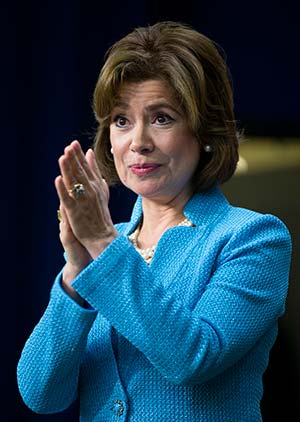 The Small Business Administration is small for a federal agency but sprawling by most other standards. It guaranteed about $30 billion in small business loans last year through its two main programs, and it operates 68 regional offices to provide counseling to local entrepreneurs. It also runs a government program that provides disaster loans to victims of natural catastrophe.
Maria Contreras-Sweet, sworn into office as SBA chief in April, has a résumé well-suited to the job. From 1999 to 2003, she ran California's Department of Business, Transportation, and Housing—an agency that dwarfs the SBA in number of employees and annual budget. Later she founded Los Angeles-based ProAmerica Bank, which specializes in lending to Hispanic business owners.
In her first month on the job, the native of Mexico visited mudslide victims in Snohomish County, Wash., attended the annual meetings of the trade groups for the biggest SBA lenders, and had her agency slammed by Republicans and Democrats in the House of Representatives.
She spoke with reporters last week about her plans for the agency. Edited excerpts from the conversation follow.
On the role of the SBA:
We finance economic development.
On the tools at the agency's disposal:
It's critical for us to keep our eye on the big pieces of what SBA is: 7(a) and 504 (loan programs). We are access to capital, and that's a big part of what we do. We have to make sure that our Main Street programs are working effectively. If we thought we had to pivot a little bit, we must make sure it's not at expense of our core products and programs and services.
On criticism from the House of Representatives that the SBA is operating too many pilot programs:
We have the lowest threshold now to enter entrepreneurism. Before, if you were going to become a lawyer, you had to invest in an office, and you had to have an annotated code book and a legal secretary. My son started a law firm, and he's working off his laptop. Our thinking about entrepreneurship has to evolve a little bit. We can't be a stagnant department and say: This is the way we've always done it, so we must always do it this way.
On serving small business owners who need smaller loan amounts:
When someone is trying to run a home business, maybe they don't need $300,000; maybe they just need $50,000. We set our fees at zero [for loans of $150,000 or less], so we can encourage financial institutions to think about this space. I think we can do more in that area. We've see that African Americans aren't accessing capital in the way that we think they should. Hispanic Americans haven't always been able to access capital. We need to make sure we have an open mind to how we can serve folks who want to create a job for themselves or others.
On getting to know her new employees:
We had a fire drill here. There was a little smoke up on the rooftop; all of a sudden I began to smell it, so we all ran out. It allowed me to walk the sidewalk and allowed me to run into more of our employees than I would have encountered.
On the agency's plan for an online portal—called SBA One—that streamlines application processes:
If you say you're going to spur innovation, what you're really saying is: Be a risk-taker. Get out there and do something. In most corporations, it's your [research and development] departments. You get to have some financial resources to try to innovate and create something, and it's expected that you're going to fail from time to time. My lament is that when you come into government and you're trying to innovate and advance, you are critiqued if it's not perfect in the first instance.
On what will happen if SBA One is beset by the same problems that plagued healthcare.gov:
I'm going to be lashed.
Before it's here, it's on the Bloomberg Terminal.
LEARN MORE