Proof Music Awards Don't Need a Pedigree to Sell Tunes
by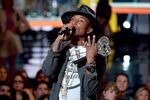 The iHeartRadio Award isn't one of the constituent parts of the legendary EGOT pantheon—at least not yet. It's a new award invented this year by Clear Channel and aired on NBC, and its unproven status didn't stop some of today's biggest music acts from claiming iHeartRadio prizes.
Now we have data showing the value of these less-than-venerable award shows. Large broadcast events move the sales needle, no matter the pedigree. Just by winning an award, songs gain popularity and exposure to new audiences.
Measuring digital download sales across iTunes, Google, Amazon, and other platforms, here are some of the massive spikes on the day of the awards (compared with the day prior):
2,591%: 30 Seconds to Mars, "City Of Angels"
2,314%: Arcade Fire, "Normal person"
108%: Pharrell, "Come Get It Bae"
83%: Luke Bryan, "That's My Kind Of Night"
72%: Blake Shelton, "Doin' What She Likes"
74%: Shakira, "Empire"
63%: Bastille, "Pompeii"
And the strong results hold up even when you compare a full week before and after the awards:
537%: 30 Seconds to Mars, "City Of Angels"
426%: Arcade Fire, "Normal Person"
132%: Ariana Grande, "The Way"
48%: Pharrell, "Come Get It Bae"
38%: Katy Perry, "Birthday"
We have seen data in the past showing sales spikes as a result of the Grammys and VMAs. One difference here is the involvement of Clear Channel, which played the winning songs heavily on its more than 850 terrestrial radio stations. Who needs name-brand recognition for an award when you have that kind of music muscle? Not surprisingly, NBC and Clear Channel decided to re-up for another broadcast in 2015.
For all the talk about media getting more and more personalized and fragmented—both in TV and in music—it's noteworthy that a big and untested broadcast event can increase sales. The power of large brands with big megaphones still matters.
Before it's here, it's on the Bloomberg Terminal.
LEARN MORE