Orr Tells Michigan Lawmakers State Money Key to Healing Detroit
Chris Christoff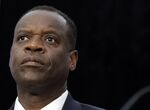 Emergency Manager Kevyn Orr implored Michigan lawmakers to approve a 20-year, $350 million payment toward his plan to end Detroit's bankruptcy by reducing retirement costs and protecting its art collection from sale to pay creditors.
Orr's appearance kicked off a series of legislative hearings on whether to approve Republican Governor Rick Snyder's pledge to help end the largest U.S. municipal bankruptcy. Republicans in the House of Representatives have proposed a $195 million lump sum from the state's surplus fund.
"We need your money," Orr told the committee in Lansing today after presenting a summary the plan that he's filed with U.S. Bankruptcy Judge Steven Rhodes. Without the state funds, a pledge of $416 million from private foundations and the Detroit Institute of Arts would vanish and jeopardize the entire plan to reduce $18 billion of debt.
State and private donations would reduce cuts to retirees' pensions and would shield the art collection.
House Republicans have introduced 11 bills that in addition to the money would require the creation of a state-appointed commission to oversee Detroit finances. It would be fashioned after the board that oversaw New York City's finances after its financial crisis in the mid-1970s.
Republican Representative John Walsh, the committee's chairman, opened the session saying Detroit is "not only broke, it's broken."
Aid is crucial, he said.
"It's a once-in-a-lifetime opportunity to fix Detroit," Walsh said.
Before it's here, it's on the Bloomberg Terminal.
LEARN MORE