pursuits
Major League Soccer's Big TV Payday? It's Just Hockey Money
By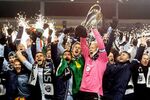 Major League Soccer has finally forced TV executives to put a big check behind the league's strong stadium attendance and roster of legitimate superstars. An eight-year deal announced Monday with ESPN, Fox, and Univision will raise MLS's annual broadcast revenue to about $90 million, roughly four times what it collects now.
The networks even agreed to fix weekly MLS games on their schedules so fans will know when to tune in. Each of the three networks will air one exclusive match of the week. ESPN and Fox have committed to a double-header of sorts, airing respective games at 5 p.m. and 7 p.m. ET on Sundays. Univision, meanwhile, will get at least 34 exclusive games along with the rights to broadcast all of the U.S. Men's National Team matches. All told, the three companies will broadcast 125 MLS matches a year from 2015 through 2022.
By now, those who follow futbol in America are used to a common refrain around news like this: "Soccer has finally arrived in the U.S." It was said when the U.S. hosted the World Cup in 1994, and again when MLS kicked off two years later, and then once again when the U.S. men's team reached the quarter-finals of the World Cup in 2002. Boosters even invoked the soccer-is-now mantra when David Beckham took his wicked right foot to Los Angeles in 2007.
So this week's script isn't exactly new. "It is a partnership that is going to elevate the domestic game to unprecedented heights, something all of us have been working so hard to achieve," MLS Commissioner Don Garber said at a press conference in New York. That tired talking point is a bit of a misnomer—after all, Pele was selling out U.S. stadiums in the 1970s. But the money, $720 million in all, is notable and arguably world class. At $90 million a year, it is right in line with the three-year, $250 million deal NBC has to televise matches of England's Barclays Premier League.
That said, the MLS deal still pales in comparison with what U.S. networks pay for the National Football League. This year ESPN will pay almost $2 billion a year to broadcast just 16 Monday Night Football games. Perhaps hockey is the more appropriate benchmark: NBC is paying the National Hockey League about $200 million a year to broadcast more than 100 games, and Rogers Communications pays about twice that much to air the NHL in Canada.
So is the big TV deal a quality result for the MLS? Absolutely. Is it a massive coup? Not really. Last year, 6 million people went to an MLS game, almost triple leaguewide attendance 10 years earlier, and the league is welcoming new expansion teams that should cultivate a new crop of fans in Atlanta, New York, and Orlando. "You will see ESPN put a real emphasis on the domestic game of the next eight years," ESPN President John Skipper said. "We think this is the right time to drive it through."
In terms of timing, Skipper is no doubt considering both the momentum of U.S. soccer and that of technology that encourages cord-cutting and other video short-cuts. Live sports is one of the only TV genres that remains relatively immune to commercial skipping. By 2022 the value of that immediacy will be far higher—whether MLS has a washed-up Neymar or Messi in its ranks by then or not. Soccer in the U.S. has arrived, at least on Sunday evenings.
Before it's here, it's on the Bloomberg Terminal.
LEARN MORE