Lira Resurrection Seen Enduring as Deficit Heals: Turkey Credit
Taylan Bilgic and Isobel Finkel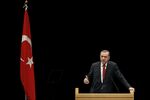 Turkey's improving balance of trade is helping transform the lira from one of the world's worst-performing currencies to the best.
The lira strengthened 6 percent since Prime Minister Recep Tayyip Erdogan's party won municipal elections on March 30, the biggest gain among more than 170 currencies tracked by Bloomberg. That compares with a 10 percent slide from Dec. 17, when a government corruption scandal erupted, to Jan. 29, when the central bank unexpectedly raised interest rates, the largest drop in the period behind the Argentinian peso.
Bonds have also rallied, pushing yields down the most among developing nations since the election, as the central bank affirmed its commitment to tackling inflation and rate increases knocked imports. Turkey's March current-account shortfall was $3.2 billion, beating the median estimate of $3.3 billion in a Bloomberg survey, according to data released by the central bank today. That's down from $8.4 billion in December, the most in almost three years.
The improvement is rooted in better trade and services balances due to a "weaker currency and economic recovery in Europe," according to Ugur Kucuk, a fixed-income strategist at Is Investment Securities in Istanbul. "We expect the slowdown in domestic demand to keep weighing on import demand," Kucuk said in an e-mailed report today.
Election Balm
The current account is the broadest measure of a nation's trade because it includes both goods and services.
Turkey is reining in the deficit just as the political turmoil that had been roiling markets since December settles down. The lira weakened to a record 2.39 per dollar on Jan. 27 on concern that Erdogan's Justice and Development Party was losing its grip on power. The AKP, as the party is known, has overseen the taming of inflation, closing of the budget deficit, a privatization program and tighter banking oversight, since it took power in November 2002.
It won 46 percent of the vote in March's local elections, increasing its dominance as voters ignored recordings alleging corruption in Erdogan's government, charges that have been denied.
The deficit narrowed to a revised $3.3 billion in February, the least since August, and imports dropped by 6.2 percent, as measures to reduce credit came into effect. On Feb. 1, Turkish regulators limited credit card repayments to nine months, while banning installments for telecommunications, jewelry, food and gasoline purchases.
Credit Growth
Banks were told to increase the funds set aside against credit-card loans by 3 percentage points to 4 percent in August, while on Dec. 31 the number of monthly installments for consumer loans was capped at 36 months and for car loans at 48 months.
Annual consumer-loan growth slowed to 22 percent in March, an 11-month low, from 28 percent in September, the fastest growth since December 2011, according to Banking Regulation and Supervision Agency data.
The narrowing of the current-account gap will continue, mainly "due to weaker domestic demand," Deniz Cicek, an economist at Finansbank AS in Istanbul, said in an e-mailed note today. Cicek predicts a full-year current-account deficit of $46 billion, or 6 percent of GDP, down from 7.9 percent in 2013.
A stronger lira makes imports cheaper, encouraging consumption of foreign goods and widening the trade deficit. The currency strengthened 3.1 percent in March, paring its 12-month decline to 15 percent. It rose 0.6 percent to 2.0677 per dollar at 17:48 p.m. in Istanbul, appreciating for the first time in three days.
Lira Predictions
Two-year note yields fell 10 basis points to 9.15 percent today, extending their drop since the election to 164 basis points, or 1.64 percentage points.
The lira will weaken to 2.17 per dollar in the second quarter and to 2.20 by year-end, according to the median of 25 estimates compiled by Bloomberg. Forward-rate agreements show 2.11 and 2.20, respectively.
Net exports of gold totaling $1.2 billion in March drove the improvement in Turkey's deficit, according to Ibrahim Aksoy, chief economist at Gedik Investment in Istanbul. "The continuation of gold exports will be important for the speed of the improvement in the deficit beyond the first quarter," Aksoy said in an e-mailed report today.
"Most of the lira rally that we've seen was due to market pricing out political risk and improved sentiment on emerging markets," Abbas Ameli-Renani, an emerging-markets strategist at Royal Bank of Scotland Group Plc in London, said by e-mail today. "The macro rebalancing story is not yet priced -- that can provide another boost for the currency."
Before it's here, it's on the Bloomberg Terminal.
LEARN MORE