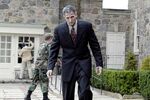 In California, the term for stalled infrastructure schemes and investment vehicles that hang around waiting for circumstances to change so they seem viable again is "zombie water projects." With yesterday's epic fail in the U.S. Senate, the proposed final leg of the Keystone XL pipeline can be seen as a cousin to California's family tree of undead public works projects—a pipeline that has gone beyond wasting considerable time and energy in not getting approved or built. Now it's inflicting collateral damage, such as by scuttling a perfectly good energy efficiency bill.
For weeks, it appeared that a constructive energy bill might make it through Congress—the first in seven years, the New York Times reports. Proposed by Rob Portman, a center-right Republican from Ohio, the Energy Savings and Industrial Competitiveness Act (ESIC) had rare bipartisan support; the companion bill in the house was supported by such natural foes as Peter Welch, a Democrat from Vermont, and House Majority Leader Eric Cantor (R-Va.), an alliance Welch likened to "a snowstorm in July in Vermont." The common sense legislation focused on such things as water heaters with smart meters, ways to reduce home utility bills, and cheaper heating and cooling systems for office buildings—stuff of equal appeal to Grist-quoting millennials and survivors of the Great Depression.
None of us will benefit because as the law neared a vote in the Senate, a few Republicans and Louisiana Democrat Mary Landrieu added an amendment that would approve the controversial Keystone XL extension ahead of the president. (As we've noted previously, Obama has the final say, but oil and gas campaign donors, impatient with the president, have whipped various congressional reelection teams into action.) And so yesterday: Senate Majority Leader Harry Reid (D-Nev.) refused to allow a vote on a Keystone pre-approval amendment to Portman's bill, and the amendment's supporters retaliated by blocking a vote on the main bill, thereby killing it.
Because Reid refused to allow the vote on the Keystone element, the Republicans can blame him for the bill's failure. Because most of the GOP pushed for the Keystone amendment, Democrats and climate activists opposed to Keystone blame Republicans for the bill's failure. And instead of snow in July, we have—as Portman put it—"yet another disappointing example of Washington's dysfunction."
Where does that leave the zombie KXL? In April, the Obama administration indicated it was punting on its final decision until after the mid-term elections. (You don't have to be a cynic to see the pro-Keystone amendment to the Energy Savings Act as a political payback for the latest delay). Yet in the six years since TransCanada submitted its plans to the U.S. for review, the economics and geopolitics have changed, especially when it comes to the pro-Keystone argument that has resonated most with voters—energy independence. The U.S. does not need more oil from the Middle East, no matter what Senator Lindsey Graham (R-S.C.)'s campaign ads might say. As this graph demonstrates, in the last 10 years, U.S. oil consumption has fallen, even as domestic supplies have risen.

The U.S. can achieve energy independence without a barrel of the Alberta tar sands oil that Keystone XL is supposed to carry. Perhaps, like one of Cali's zombie water projects, the Keystone XL must await the next gas crisis or huge spike in oil prices to seem promising again. In the meantime, it appears that tar sands developers are scrambling to get additional pipelines built in Canada before the world wises up and regulators render the carbon-intensive tar sands less viable.
Before it's here, it's on the Bloomberg Terminal.
LEARN MORE