Indian Investors Celebrate After Polls Show a Big Win for Modi
by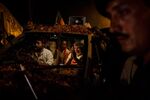 The voting is over in India, and while we won't know the winner of the country's elections till Friday, investors in Indian blue-chip companies are already partying. Exit polls released Monday show opposition leader Narendra Modi's Bharatiya Janata Party (BJP) winning a clear mandate over the incumbent Congress Party.
If the polls are right (a big "if" in India, where exit polls in the past have overstated the strength of the BJP), the Hindu nationalist party and its allies will win from 249 to 340 seats in the new Parliament, with 272 needed for a majority. Meanwhile, Congress—the party of the Nehru-Gandhi dynasty that has presided over several years of disappointing growth—seems poised for a humiliating rejection, with polls showing it may win as few as 70 seats.
The BJP's big win has cheered people hoping Modi will usher in a more reformist agenda. The benchmark Sensex stock index rose to a record Tuesday and is now up 13 percent this year. Blue chips such as Reliance Industries (controlled by India's richest man, Mukesh Ambani), HDFC Bank, and Oil & Natural Gas all traded at 52-week highs.
The euphoria is a sign of confidence in Modi's ability to form a strong government that, unlike the outgoing government of Prime Minister Manmohan Singh, won't be hobbled by coalition partners. "The stronger the mandate, the better position they are in," DBS economist Radhika Rao told Bloomberg Television Monday.
The good cheer comes despite the latest set of data showing the Indian economy is still struggling. Consumer prices in April jumped 8.59 percent, the government announced on May 12. That's worse than the 8.5 percent median estimate in a Bloomberg survey and up from 8.31 percent the previous month. On the same day the government revealed the disappointing inflation numbers, a separate survey showed factory output slumped, too, falling 0.5 percent in March. Factory output has declined in four of the past six months. "The new government will be inheriting a stagflation-type situation," Rupa Rege Nitsure, chief economist at Bank of Baroda in Mumbai, told Bloomberg News.
For all of the excitement among investors, Modi's not going to be able to fix India's mix of high inflation and low growth quickly. "We're due for a bit of a reality check," Fred Neumann, co-head of Asian economics research at HSBC in Hong Kong, said Tuesday morning on Bloomberg Television. In India, where states have a lot of power, even a government with a comfortable majority at the national level can have difficulty pushing through its agenda. "We have all these expectations about Modi coming in and easing the gridlock that we've seen for all these years," he said. "I think we'll have a bit of a wake-up call here after the elections."
Before it's here, it's on the Bloomberg Terminal.
LEARN MORE