Europe's Top B-School Courts Women by Learning What 'Candid Americans' Want
by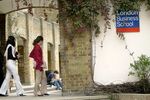 About 17 percent of the students at the University of London's London Business School's full-time MBA program hail from North America. Just under one-third are women, according to Bloomberg Businessweek's latest rankings profile.
LBS, which earned top place in our ranking of international MBA programs, wants more applicants who fit both criteria. "Two years ago, we set a target for 30 percent [women students]—we've exceeded that every year," says Wendy Alexander, an associate dean at the school. "But if you look at where Wharton and others are, we need to do better."
That's one reason she commissioned Austin (Tex.)-based nonprofit
Forté Foundation to study North American women enrolled at LBS and four other leading European business programs. The idea was to get a better sense of who was attending and to encourage more women to relocate to Europe.
Results from 65 respondents identified three student archetypes:
• The "Dual Background" emigrated to North America, "deep down feels American/Canadian," and holds an engineering degree from a second-tier American university.
• "The Traveler" is "a citizen of the world and feels at home in every country" and studied international relations at a second-tier American university.
• The "Candid American" has "lived and worked in the U.S. all her life," holds a business or economics degree from a top U.S. university," and wants to a life change.
(A March post at Poets & Quants has further detail on each type.)
The market research helped inform LBS how "picky we're being," says Alexander. "We're not interested in Candid Americans who don't have a highly developed interest in learning about other cultures—that's not really a pond we're fishing in," she explains. "We're really not interested in being an international finishing school for people who just want to gain international exposure before returning to a completely homogeneous business culture."
She prefers Candid Americans who understand you "gain more by using your MBA experience to get exposure to global markets than you do simply by reinforcing an Ivy League degree with another Ivy League degree in a U.S.-centric market."
Why call them Candid Americans? The word choice was to intended to emphasize their appetite for risk and the idea that their history wasn't global, Alexander says. "It was an active choice in them identifying that business is increasingly global rather than North American-centric," she says. "There are many global corporations that simply say, 'You will not get into the C suite unless you've spent two years operating in a global market.'"
Before it's here, it's on the Bloomberg Terminal.
LEARN MORE