Coca-Cola Pours Itself Some More Keurig
By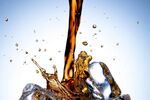 Coca-Cola just poured itself a little more Keurig Green Mountain. The pod-based coffee maker had been a target of a pack of short sellers—who bet against companies by borrowing shares and selling them, hoping to buy them back at a lower price—until the soda giant announced in February that it was buying 10 percent of Keurig for $1.25 billion, causing many shorts to flee. Now Coke is boosting its stake to 16 percent.
The news sent Keurig shares up more than 7 percent in early trading. With a gain of 46.5 percent on the year through May 12, the stock is the fourth-best 2014 performer in the Standard & Poor's 500-stock index.
Coca-Cola is now Keurig's largest shareholder as it continues to work with the Vermont-based company on a system that can produce single servings of cold beverages in homes and offices. The new product is scheduled to be introduced in 2015. Coke's worries—revenue growth is slowing as consumers drink less soda—are Keurig's gain. (Michael Bloomberg, owner of Bloomberg LP, parent of Bloomberg Businessweek, was a noted opponent of large servings of sugary sodas as mayor of New York.) The North American carbonated soft drink market declined to $77.4 billion in 2013, according to Bloomberg Industries, down from $79 billion the year prior.
This six-month chart shows Keurig's rally in white, against the decline in short interest in orange:


Before it's here, it's on the Bloomberg Terminal.
LEARN MORE