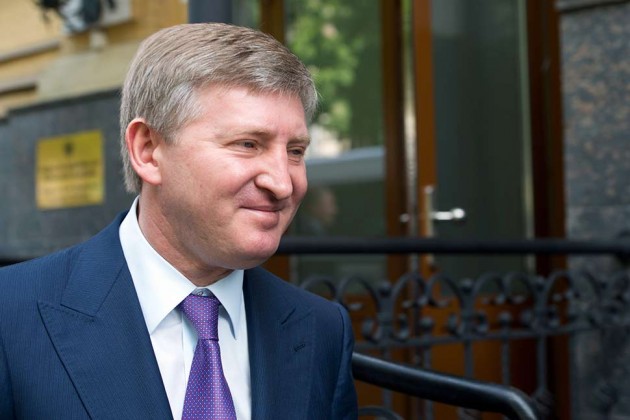 The army and local authorities have failed to restore order in Ukraine's troubled eastern regions. Now, the country's richest man is giving it a try.
Metinvest, the metallurgy group whose majority shareholder is oligarch Rinat Akhmetov, announced this week that its employees in the city of Mariupol had established private militias to patrol alongside local police. Metinvest also sent a letter to the government in Kiev demanding that "the Ukrainian army and other armed men … immediately leave the city."
Akhmetov, who is worth an estimated $12.8 billion, has said he favors a unified Ukraine and wants separatists to stand down. But he's close to former President Viktor Yanukovych and generally kept a low profile after Yanukovych's ouster in February. His SCM Group, which employs more than 320,000 people, called on its workers last month to avoid confrontation and support a peaceful solution to ensure a "united, indivisible, and independent" Ukraine.
In an interview published on May 12 in the Russian newspaper Rossiskaya Gazeta, separatist leader Pavel Gubarev said Akhmetov was providing money to some separatists, in what Gubarev described as an effort to placate them and defuse the separatist movement. "Two-thirds of the activists are on the take from the oligarch Akhmetov," he said.
Akhmetov issued a statement denying Gubarev's account but suggesting that he has been talking behind the scenes with separatists. "I have not bought out anyone, I have persuaded them," the statement said. "And if I have persuaded two-thirds so far, I will continue to persuade them further." The eastern regions "can be happy only in a united Ukraine," he said in the statement, parts of which were published in the Kyiv Post.
In the Dnepropetrovsk region of eastern Ukraine, billionaire oligarch Igor Kolomoyskiy has maintained order by offering cash rewards for seized weapons and information on subversive activity.
The new government in Kiev appointed a third oligarch, Sergey Taruta, as governor of the Donetsk region, which is Akhmetov's home base, though Taruta has failed to bring the separatists there under control
Akhmetov might have a better chance of achieving peace, says Anders Aslund, a senior fellow at the Peterson Institute for International Economics in Washington. "If Akhmetov decides to come down on one side or the other, then that could have enormous impact because Akhmetov is not one of those people who is in the least afraid of going down to talk to people on the shop floor," Aslund says.
The government-by-oligarch model has risks. Public anger at the oligarchs' political and economic clout was a key driver in the protests that toppled Yanukovych. Says analyst Elena Zakharova of the International Center for Policy Studies in Kiev: "It is not entirely out of the question to think that this might all disintegrate into a pseudo-civil war between Ukraine's oligarchs."
Before it's here, it's on the Bloomberg Terminal.
LEARN MORE