Browns Cut Quarterback Vince Young After Drafting Johnny Manziel
Erik Matuszewski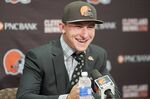 The Cleveland Browns released quarterback Vince Young after selecting Johnny Manziel in the first round of this year's National Football League draft.
Young, 30, was the third overall pick in the 2006 draft yet hasn't played in an NFL game since the 2011 season. He signed with the Browns two weeks ago after being released by the Buffalo Bills and Green Bay Packers the past two offseasons.
The Browns took Manziel, college football's 2012 Heisman Trophy winner, with the 22nd pick in this year's draft and also added Connor Shaw as an undrafted free agent. They released quarterback Alex Tanney in addition to Young, who was the runner-up for the 2005 Heisman Trophy and was the NFL's offensive rookie of the year in 2006.
Brian Hoyer is the Browns' starting quarterback, with Manziel as a backup, owner Jimmy Haslam said yesterday during a luncheon at the Pro Football Hall of Fame in Canton, Ohio.
Before it's here, it's on the Bloomberg Terminal.
LEARN MORE