Bill Clinton and Chris Christie Go Back to Back With Deficit Speeches
By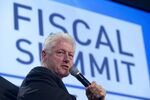 What do you do when your No. 1 cause is shrinking the federal budget deficit, and the deficit seems to be shrinking all by itself? Bring out the big guns to help you make your case.
For its 2014 Fiscal Summit on Wednesday, the Peter G. Peterson Foundation has former President Bill Clinton at 11 a.m., New Jersey Governor Chris Christie at lunch, and Alan Greenspan, former chairman of the Federal Reserve Board, at 1:30 p.m., with a host of other biggies before and after, such as House Minority Leader Nancy Pelosi and Senate Budget Committee Chairwoman Patty Murray.
The forum's message is that deficits still matter even though the Congressional Budget Office estimated last month that the 2014 fiscal year deficit would be just 2.8 percent of gross domestic product, the smallest since 2007. In the recession year of fiscal 2009, by contrast, it was 10.1 percent.
I spoke before the forum with Michael Peterson, the foundation's president and chief operating officer. "The recent decreases in the deficit are obviously good news," he told me, "but they're not an indication that the long-term challenge has been solved." Forecasters predict that deficits will start increasing again in coming decades as America ages and the cost of Medicare, Medicaid, and Social Security go up.
The Peterson Foundation's message—as signaled by putting the Democrat Clinton and the Republican Christie on stage one after the other—is that deficit reduction is a bipartisan issue. "No matter what you care about from the left or the right, it's important that we don't have a huge amount of debt that constrains the growth and prosperity of our economy," Peterson said. (Peter G. Peterson, the foundation's founder and chairman, is a billionaire octogenarian who served as Commerce Secretary under President Nixon and co-founded the Blackstone Group in 1985.)
The foundation is releasing a poll that found 91 percent of people surveyed believe that a "stable fiscal foundation" is essential to the nation's economic growth. The trouble is that while it's easy for citizens and their representatives to agree in the abstract that deficits matter, agreeing over the pace and approach to reduction—by spending cuts or tax increases—remains far more difficult.
Before it's here, it's on the Bloomberg Terminal.
LEARN MORE