Among Food-Concerned Moviegoers, 'Chef' Beats 'Fed Up'
by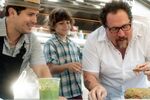 America's children are getting fat and are expected to die younger than their parents, filmmaker Stephanie Soechtig warned in her call-to-action documentary "Fed Up," which opened May 9. Alarming, yes, but what did moviegoers do? Many went to see "Chef," Jon Favreau's comedy about a high-end chef who pursues his dreams via a food truck, which opened the same day.
"Chef" made $204,000 in six theaters over the weekend, while "Fed Up" took in $126,028 on 18 screens, according to data on Box Office Mojo. (The food truck business isn't even as hot as it used to be.) Small numbers—they're both specialty films—but it does appear that people would still prefer to be fed foodie eye candy and leave theaters with their appetites (and spirits) aroused than exit feeling fed up.

Favreau had the help of a star-studded cast, including John Leguizamo, Scarlett Johansson, Dustin Hoffman, Sofía Vergara, and Robert Downey Jr., though "Fed Up" did get Katie Couric and Bill Clinton—a different kind of celebrity, surely, but stars nonetheless. Among critics, they're about equal too: "Fed Up" has an 87 percent rating on Rottentomatoes.com, and "Chef" has 86 percent.
"'Chef' is not a documentary. If it were I might be disappointed," said Tom Quinn, co-president of Radius-TWC, the studio division of the Weinstein Co. behind "Fed Up." "Considering that we're one of the biggest doc openings in recent years, though, we're quite pleased."
Bruce Nash, founder and president of movie industry researcher Nash Information Services, says "Fed Up" is more fairly compared with other food-related documentaries than a star-driven indie film. In that light, "Fed Up" took in an average of $7,000 per theater on opening weekend, more than disappearing bees film "More Than Honey," which earned $5,000, but less than "Food, Inc." at $20,000 per theater. "It did very well, but again not spectacularly," he says.
Those frustrated that a documentary about a public-health epidemic did not perform better would do well not to eat their feelings.
Before it's here, it's on the Bloomberg Terminal.
LEARN MORE